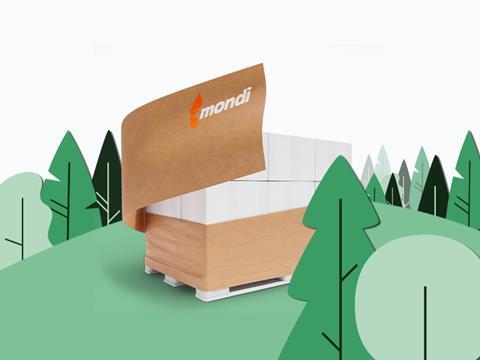 An independent life cycle assessment (LCA) commissioned by Mondi to compare its Advantage StretchWrap paper to conventional plastic stretch film reportedly demonstrates that the company's paper pallet packaging has a lower climate impact, but that neither material holds an overall lead in terms of environmental impact.
Mondi says that it considers LCAs a useful tool to analyse the advantages of different material solutions and guide decision-making. The assessment of the company's Advantage StretchWrap paper was conducted by ESU-services Ltd., an ISO-compliant external consultancy, and included an external critical review with members from IFEU, Circular Analytics, and BOKU.
The comparison between the Advantage StretchWrap with a reference flow of 840g per Euro-pallet and plastic stretch film (400g per Euro-pallet) assumed that both materials were recycled at the end-of-life, while apparently covering other relevant life cycle stages including raw material extraction, production, and application on a pallet. According to the company, the materials were compared across 16 indicators to understand any potential trade-offs.
Mondi says that the LCA found that Advantage StretchWrap has 62% lower greenhouse gas (GHG) emissions when compared to virgin plastic stretch film and, in comparison to plastic stretch film made with 50% recycled content, had 49% lower GHG emissions.
According to the LCA, the Advantage StretchWrap performed better overall in nine categories: climate change, fossil resource use, ionising radiation, particulate matter, human toxicity (cancer), human toxicity (non-cancer), freshwater ecotoxicity, acidification, and mineral and metal resource use.
The plastic stretch film did perform better in the remaining indicators, including land use, freshwater marine and terrestrial eutrophication, ozone depletion, and photochemical ozone formation. However, Mondi claims that there is potential to lower the impact of Advantage StretchWrap in most categories where plastic stretch film currently has a lower impact.
In addition, the LCA allegedly found that recycling is the best end-of-life scenario for both plastic stretch film and paper pallet packaging, resulting in a lower impact on carbon emissions than incineration or landfill.
The LCA concludes that Mondi's Advantage StretchWrap can be recommended for mitigating climate change impacts, but that action needs to be taken to actively reduce its impact in other categories – in particular, land use and the availability of wood resources – to demonstrate an overall environmental advantage.
As such, the LCA found that there is "no overall advantage or disadvantage for one option or the other". It adds that measures to reduce environmental impact for both paper and stretch film should focus on the production stage, as well as decreasing the mass of materials per Euro-pallet if possible.
Karoline Angerer, product sustainability manager at Kraft Paper & Paper Bags, Mondi, comments: "At Mondi, we use these results as part of our decision-making process in line with our MAP2030 sustainability commitments.
"Our customers value our attention to detail and how we partner using our EcoSolutions approach to develop solutions that are sustainable by design."
Some of Mondi's recent EcoSolutions releases include a paper bag developed for the South African retail market, with specific considerations for weather conditions, and its monomaterial packaging developed for the Finnish dog food brand Hau-Hau Champion.
Join us on the 9th of November at 15:00 CET to hear more from the Mondi team about the results of this LCA. The session will be taking place live on our Sustainable Packaging Summit digital platform – click here to register for free.