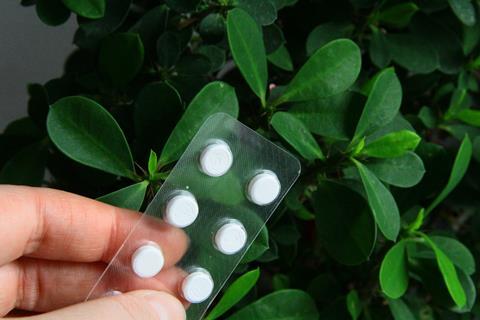 Huhtamaki claimed an 'industry first' last month with the launch of its aluminium-free, mono-material PET blister lid for the global healthcare and pharmaceutical industries. Tobias Fackler, senior manager at the company's healthcare business unit, told us more about the innovation and the story behind its creation.
For our readers who might have missed the initial announcement, could you introduce this innovation and talk a bit about its significance?
Huhtamaki's Push Tab blister lid is mono-material PET and free from aluminium. This first-to-market, groundbreaking innovation will help deliver sustainable packaging solutions for the growing global healthcare industry, whilst importantly maintaining functionality and efficiency, as it runs on existing blister packaging lines without compromising on speed.
The Huhtamaki Push Tab blister lid is made of mono-material PET (polyethylene terephthalate) which significantly improves the recyclability of the packaging, whilst remaining compatible with existing high-performance blister packaging lines, without needing modifications or extra investment. Huhtamaki and its partner – Klöckner Pentaplast – bring this first-to-market innovation to help the global healthcare and pharmaceutical sector meet their sustainability targets whilst meeting market growth.
How does it compare to conventional alternatives in terms of safety, performance and carbon emissions? Have any LCAs been undertaken to assess carbon emissions associated with its life cycle?
Push Tab blister lid runs on existing blister packaging lines and is a plug-and-play solution, which means no additional investment is needed for our customers. This newly developed unique technology makes PET-based lid film pushable and secures easy access to the tablet for the consumer.
It is designed to meet the stringent safety requirements of the highly regulated pharmaceutical and healthcare packaging sector and provides the industry with a more sustainable alternative to traditional push-through blister packaging.
An LCA comparing conventional Alu/mono PVC blisters with Huhtamaki Push Tab blister lid and Klöckner Pentaplast bottom film is currently ongoing.
What motivated the creation of this new product?
The pharmaceutical industry is proactively searching for sustainable packaging solutions that enable recyclability. Since blister packaging traditionally contains multiple materials, it is difficult to recycle them in a single recycling stream. Push Tab blister lid solves this problem because it is made of mono PET.
This innovation is designed as part of our blueloop platform, enabling us to speed up innovation and improve circularity in high-performance flexible packaging solutions.
We are working hard to turn all our products into mono-material, fully recyclable structures.
Could you give us an insight into the R&D process? What were the key challenges that had to be overcome in the creation of the Push Tab blister lid?
First of all, we are proud to partner with Klöckner Pentaplast to bring Push Tab blister lid to market and continue to shape the sustainable future of pharmaceutical and flexible packaging. In addition, Huhtamaki are collaborating with valuable partners across the value chain to deliver innovation.
The key challenge was to create an alternative to established ALU /PVC solutions that allow the customer to keep up with their high production efficiencies without any additional investments. Together with Klöckner Pentaplast we always aimed for a plug in and play solution. Additionally, it was the target to ensure a similar consumer experience when pushing the tablets.
We've reported on a number of blister tab innovations from Huhtamaki in recent times – from Push Tab paper to Push Tab loop. What's next for your company in this field, and more generally in the area of packaging sustainability?
Huhtamaki is making a difference where it matters through innovative and sustainable packaging solutions. We develop fit-for-purpose packaging that is best suited for the product and the environment. It is also why we continue to innovate with more sustainable packaging, designed to play its role in delivering systemic change.
The focus of Huhtamaki's R&D activities in the time to come will be further on high barrier solutions. Huhtamaki Push Tab blister lid was just the first step of a long journey to a new generation of blister packaging.