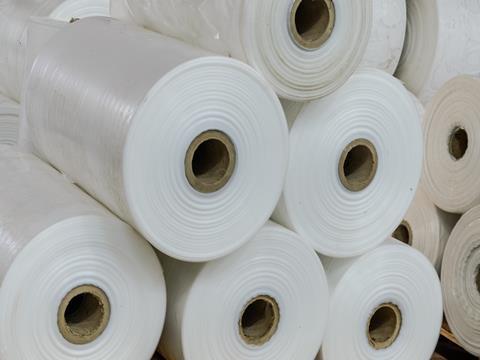 A new report by PreScouter is said to discuss the latest regulations, market forecasts, and R&D focus areas regarding mono-material packaging, as well as noting the industry players thought to have embraced such packaging. It even anticipates a surge in popularity for mono-materials in the flexible packaging industry by 2030. Julia Siqueira e Silva gives us a run-down of the company's findings.
Given the growing concerns regarding sustainability, worldwide efforts are focused on increasing recyclability towards a more circular economy. This is exactly where mono-material packaging comes in.
According to PreScouter technical director and report co-author Marija Jovic, "Mono-material packaging is paving the way for flexible packaging in particular to be considered as sustainable and circular packaging." Such packaging options consist of layers of a single type of material, making them ready to be recycled.
The problem with recycling multi-materials
A demanding part of the recycling process is sorting – i.e., separating the different materials into cleaner streams, as each type of material requires specific process conditions to be recycled. This is specifically challenging for the flexible packaging sector, where packaging commonly includes multi-materials, such as plastic and metalized layers, that cannot be easily separated and are sometimes rendered unsuitable for recycling at scale; coatings are a widely utilised example.
The main materials reported include high and low-density polyethylene (PE), polypropylene (PP), biaxially oriented PE and PP, polyethylene terephthalate (PET), polyvinyl chloride (PVC), and many more.
The shift to flexible mono-material packaging
The flexible packaging market alone is estimated to grow over 4% in 5 years and shows the greatest growth opportunities for mono-material packaging in the personal care, cosmetics, pharmaceutical, and food industries, specifically in the Asian-Pacific market (APAC). R&D has turned its focus to replacing the remaining 20-30% of its total production that still relies on multi-materials with mono-material options.
Many initiatives like the Circular Economy for Flexible Packaging (CEFLEX), RecyClass, and BOPET's Vita Nova consortium are encouraging this gradual shift, along with the creation of more specific production guidelines. However, this task is not trivial. Each layer of multi-material packaging has a specific purpose that now needs to be met by a single type of material, keeping the desired individual properties. Therefore, some of the key challenges the R&D sector faces include reaching adhesion, printability, processability, yield, heat-sealability, transparency, and food contact compliance comparable to those of multi-materials.
Key requirements a mono-material package needs to meet
Given these challenges, the right mono-material packaging solution needs to meet a few requirements to be deemed suitable for replacing multi-material options.
For a start, they must have competitive pricing with consistent quality, especially for oriented films. This should be obtained while the products are protected from contact with moisture and oxygen, thus allowing them to reach the customer at their best while providing the same known shelf-life as the original multi-material packaging options.
Processability is one of the main features that must be taken into consideration when developing new products. The ability of the materials to be made into films cannot be jeopardized and they should be able to withstand the packaging machines already employed for multi- and mono-material at facilities worldwide, as replacing and/or modifying them may bring great, unwanted costs. For this, mechanical properties need to be improved, specifically elasticity and stiffness, along with the sealability of the thermosealed layer.
It is also important to account for the role of coating on the sustainable packaging, as it will usually include printing or labeling. These coating resins can interfere with the recyclability of the mono-material packaging, so better alternatives such as silica/aluminum oxide, clay, and polyurethane-based solutions are being developed as well.
Another obvious challenge does not necessarily involve the manufacturers themselves, but the recyclers – assuming that 100% of the laminates are actually recycled. That depends on the mechanisms of effectively identifying mono-material streams and separating smaller fractions by differences in density among the different types of plastics, as well as the overall logistics for materials to be effectively transported to recycling facilities.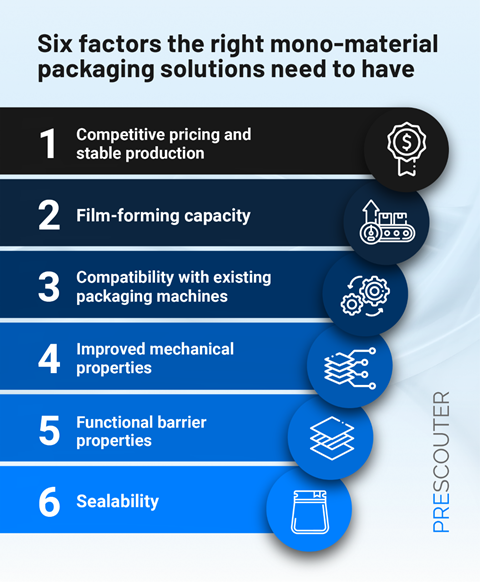 Mono-material packaging innovations
Mono-material packaging mainly aims to replace usual multi-material composite layered and/or non-recyclable packaging, in applications ranging from food packaging to the pharmaceutical industry, including personal care products, and even apparel manufacturing.
PreScouter's report highlights commercially available solutions from eight companies globally. Profiled companies include big players like Sabic and Mondi as well as smaller players with innovative solutions like Nurel and Zotefoams.
Replacing multi-material laminates and non-recyclable materials
Sabic provides a mono biaxially oriented linear low-density polyethylene (LLDPE) film product line suitable for both food and non-food packaging. It has great processability and is compatible with traditional mono-PE streams.
Mondi has a versatile mono-PE product available in a wide range of colors with facilitated printing capability and great barrier properties – this is also suitable for both non-food and food standing pouches.
Nurel has interesting barrier-sealable mono-copolyamide options for the food industry, as well as the only nylon 6 yarn made of 100% pre-consumer waste for apparel manufacturing.
Huhtamaki provides solutions for non-recyclable blister packaging for the pharmaceutical industry, with PVC-free mono-PET cost-effective options.
Klöckner Pentaplast also offers a similar option, alongside PE-lining free mono-PET for fresh food packaging with great mechanical properties.
Key takeaways
Overall, mono-material packaging is a key part of approaching a real circular economy, facilitating recycling, and providing growth for companies looking into substituting their remaining multi-material packaging options, especially when focusing on APAC.
This also opens the path for gains by current recycling companies in terms of getting more material to process, as well as for those sourcing and distributing the mono-material.
More importantly, in terms of ESG goals, some companies who have adopted mono-material packaging report a 20% reduction in their carbon footprint compared to the industry production average, as well as over 10 times less water usage. Hence, wider adoption of mono-material packaging plays a role in reducing global warming potential significantly, thus getting companies closer to their ESG goals.
"This is certainly a trending topic in the Chemicals, Materials & Packaging segment," notes Priscila Carvalho, PreScouter Project Architect and report co-author. "I'm seeing 'mono-material packaging' listed more and more in corporate sustainability reports among their initiatives."
Solutions are out there and this report presents a small sample of the possibilities.