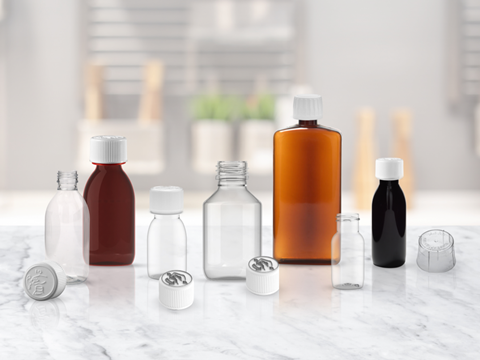 Berry Global Healthcare has unveiled a bundle solution of child-resistant, tamper-evident PET bottles and closures designed for the pharmaceutical and herbal market for syrup and liquid medicines.
Seven ranges of 28mm neck PET bottles have been released, ranging in sizes from 20ml to one litre and providing a variety of designs. Customers can pair the bottle with eight accompanying closures, as well as liners and dosing cups based on the requirements of the bottle's application and capacity.
Some of the bottles and closures are fully tested and certified as being child-resistant to the EU's ISO8317 standard and the US' 16CFR1700.20 standard, thus ensuring that the packaging is safe for use and meets regulatory requirements. Such certification also covers the EPE42A, EPE Saranex, F217-4 (PE Faced EPE), and I.H.S liners when applied to bottles with a 50ml to 250ml capacity.
The company states that PET bottles provide barrier properties against oxygen and moisture ingress to ensure that the products contained within remain safe and effective. The strength and light weight of the bottles reportedly ensure that they are convenient, safe, resistant to breakage, and easy to handle in transportation.
Additionally, PET is expected to enable customers to easily label and brand their products, as well as provide an 'attractive' alternative to glass packaging through which customers can view the product in full. Some bottles can also be produced in 100% food-grade recycled PET, Berry says.
Aiming to meet the various needs of the pharmaceutical market, the bundle is available to customers from eight Berry factories throughout Europe, which is hoped to provide a fast and flexible service for companies of various sizes to commercialise their products. It was launched at 2022's Pharmapack exhibition in Paris.
"We had a very positive reaction from visitors to our stand," commented Nadine Khoury, senior strategic marketing manager at Berry Healthcare. "In particular, the extensive choice of bottles and closures was very appealing as it enables us to provide individual customers with the best option to meet their needs.
"This also demonstrates our commitment to being a trusted supplier and preferential partner to the industry."
Amcor Rigid Packaging announced its two-step lightweighting technology last year, with the solution expected to halve the material and weight in the finish of PET bottles. This is reported to be applicable to the healthcare sector, amongst others, and it is both compatible with 100% recycled materials and capable of producing recyclable solutions, according to Amcor.
Berry Global has developed other sustainability-minded, plastic-based packaging solutions, including its collaboration with PYLOTE to produce an ophthalmic dropper with high barrier and antimicrobial protection properties; this is set to enable the application of multiple doses from one pack and reduce plastic waste.
The company also worked with McCormick to launch recyclable food colour bottles made from 100% post-consumer recycled plastic.