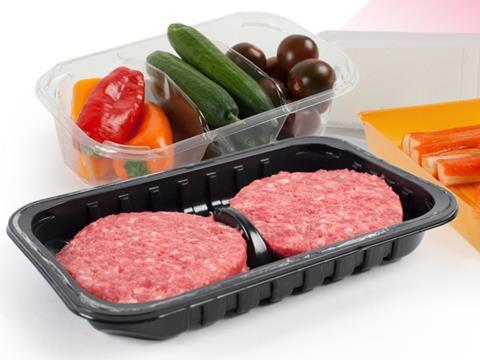 COEXPAN presents CorePET, the new 100% rPET tray for different applications, decontaminated for food contact use. This new product supports the commitment announced last year by PET Sheet Europe.
This association, bringing together Europe's leading PET sheet producers, aims to guarantee that by 2025 PET products will have a mean recycled content of 70%. This ambitious undertaking focuses on meeting the goals laid down in the EU Plastics Strategy towards a new Circular Economy model while also reminding European authorities of the importance of cooperation in taking specific actions with regard to legislation, guaranteeing market stability and promoting the sustainable growth of the industry through measures that include effective collecting, sorting, processing and recycling systems for PET packaging.
CorePET, the new 100% rPET sheet specifically formulated for the thermoforming market, is manufactured using state-of-the-art technology and it meets all the legislative requirements, including EFSA approval. CorePET does not rely on a 'functional' virgin PET barrier for food contact approval. All the raw materials used are suitable for direct food contact without any barrier layer.
rPET sheets are readily available with different percentages of recycled content: 50%, 70% and 85%, with the possibility in this latter case of reaching up to 100% and producing sheets in different colours for a variety of applications that include packaging for cheese, fresh pasta, fruit, salads, cosmetics or blister packaging.