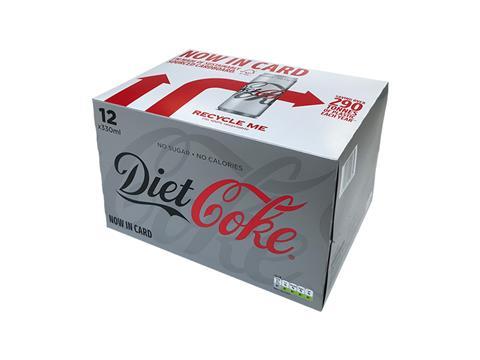 In partnership with Graphic Packaging International, Coca-Cola HBC's larger multipacks are now available in a new fully enclosed paper-based carton, which replaces previously-used shrink-wrap.
This follows the introduction of Graphic Packaging's KeelClip late last year, which saw smaller multipacks (four, six and eight cans) transition to a new paperboard solution.
Both packaging types were designed and developed by Graphic Packaging; which predicts that, in total, transitioning to these new secondary packaging solutions will eliminate 500 tonnes annually of hard-to-recycle shrink-wrap plastic.
Coca-Cola HBC has also introduced prominent on-pack messaging in a bid to communicate its sustainability message directly to consumers, highlighting that the packs are recyclable.
The company hopes that what it describes as the "more premium feel of the pack" will enhance the brand and elevate shelf appeal within the multipack aisle, improving point of sale presentation and the consumer experience.
To support the production requirements of the venture, Graphic Packaging has installed a QuikFlex machine in Coca-Cola HBC's plant in Lisburn, Northern Ireland, producing a variety of configurations from four- to 24-packs.