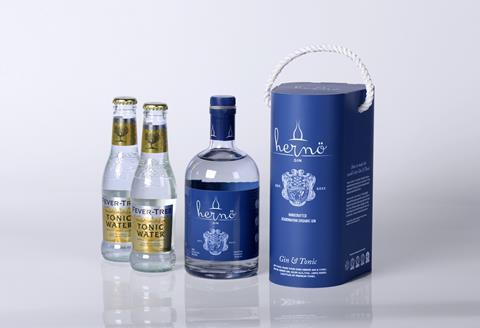 Crowned the World's Best Gin & Tonic in 2016 by IWSC, Hernö Gin has turned to Cepac, one of the UK's leading independent corrugated packaging producers to provide an eye-catching gift pack using its Arcwise range.
The UK-based manufacturer was approached by the Swedish distiller to produce a unique and outstanding pack for its gift range. Hernö Gin requested a pack with shelf appeal that would house a bottle of its London dry gin and two bottles of premium tonic. The award winning combination was created with Fever Tree tonic. The innovative design was created in collaboration with the Arcwise team at SCA. Cepac holds the UK rights to the innovative curved corrugated Arcwise range which offers exceptional printing and cutting solutions not possible with conventional packs.
By curving the pack seamlessly, Cepac could digitally print high quality graphics without warping or dead corner space. There was the added challenge of protecting the contents of the pack from damage in transit.
Maria Åman, Head of Communications at Hernö Gin, said: "We take care in crafting our artisanal gin, distilling it in hand-hammered copper stills with hand-selected botanticals and for our gift pack we wanted craftsmanship to match.
"Cepac and the Arcwise range matched our commitment to creativity and innovation, so were the perfect partners for our exclusive range.
"We've had great feedback from our customers on the packaging. People have told us how different the shape, look and feel of the pack is and that the rope that has been integrated into the design is both striking visually and practical.
"As the market for gin in the UK and Europe continues to grow and more and more competitors enter the space, it's critical to stand out from the crowd. By partnering with Cepac, we've certainly been able to do that with our gift set."
Steve Moss, Group Sales and Marketing Director at Cepac, said: "The Arcwise range has been a hit with FMCG customers such as Hernö Gin as they look for shelf appeal. The design and graphics options as well as the rigidity and strength properties of the range make it ideal for drinks brands in particular. We look forward to working with Hernö Gin as they continue to expand throughout the world."
More info: