There are copious ways the packaging industry is innovating toward higher levels of recyclability, from re-engineering materials to focusing on sorting and recycling technologies. But sometimes something as seemingly insignificant as a simple change to design can help save a significant area of plastic waste. Libby Munford explores the increasingly important concept of tethered closures for plastic bottle caps.
Amid widespread focus on plastic bottles themselves, detached bottle caps pose different sustainability dilemmas. There remains a lack of information available on how to recycle bottle caps and what the strategies are from the brand owners down to information guidelines on a consumer level.
With an inconsistent message, packaging companies are innovating and taking the lead by designing tethered caps – eliminating the problem from the brand owners and the consumers alike. EU Directive 2019/904 on single-use plastics requires beverage bottles to have closures tethered to the bottle for proper disposal, reducing the risk of plastic items dispersing into the environment.
Consistency is key
As a first port of call, this investigation starts at the end of the value chain of rigid plastic bottle caps, with insight from Richard Kirkman, chief technology and innovation officer, Veolia (UK and Ireland), a leader in environmental solutions, providing a comprehensive range of waste management services designed to build the circular economy and preserve scarce raw materials.
With the Plastics Pact being set out to reduce the plastic pollution, and the Waste and Resource Strategy aiming to increase recycling rates, the beverage closure business is aiming to follow suit. Richard Kirkman explains, "The SUP Directive clearly steered consumers towards reusable bottles. However, the big driving force for innovation in beverage closures is from the New Plastic Economy Global Commitment. This strives for a circular economy for plastic."
When designing beverage closures consistency is key.
Richard Kirkman recommends, "that the closures be fixed on by design and be made of the same material and colour. A trend here is towards fixing closures to the beverage container, for example, by using hinged closures. If not then advise customers to leave on the caps, or design in that influence."
But why is it important that caps remain tethered to the bottle?
"We recycle bottles and closures in our MRF's. We also offer Deposit Return Schemes for plastic bottles, their closures and drink's cans. At our MRF's we find that when the bottle closures are separated from the bottles it's much harder to process as they can literally fall between the gaps. If closures were to remain on plastic bottles when recycled, they are much more likely to be recycled," urges Richard Kirkman.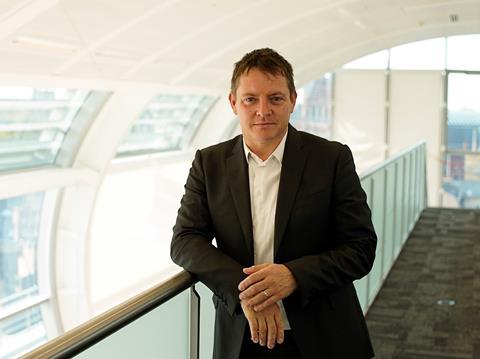 Richard Kirkman, Veolia
He continues, "Surrounding any plastic products there will often be issues and challenges. Closures can be recycled and help towards a sustainable solution, however we all need to be educated on how to recycle. At Veolia we work to educate clients and consumers - and ourselves! - on recycling correctly.
"We believe the regulations on consistency being set out by the Waste and Resource Strategy will help people to recycle their enclosures properly. Let's all remember this is about sustainable packaging not just plastic packaging, we need to reduce, reuse first then when we need a packaging we need to choose the right material and design it well!"
Remain united
AptarGroup Inc. has partnered with Nippon Closures Co., Ltd to cross-license technology for tethered beverage closures. Aptar and NCC say that they are working to continuously improve the consumer drinking experience, while also creating solutions for beverage closures that are better for the environment.
Flip Lid by Aptar is a dispensing closure that is described as consumer friendly and is designed to promote post use recycling as the closure remains united with the bottle throughout its lifecycle, making it more likely to be collected and sent through the recycling stream with the container.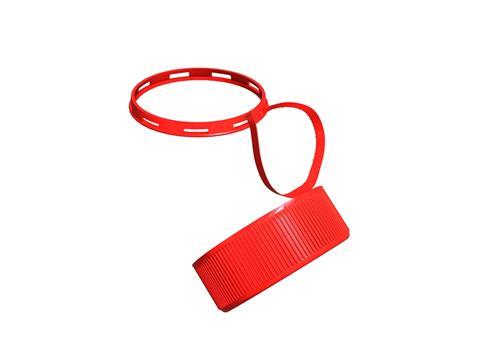 NCC's StrapBand solution is also a tethered solution available for today's flat caps which provides a hinge functionality with a wide opening angle and a click sound when tethered. The StrapBand solution can be applied to flat caps and sports caps, for both still and carbonated beverages.
Flip Lid and StrapBand meet the requirements of the single-use plastics (SUP) regulation in Europe, that introduced design requirements to connect caps to bottles, thereby increasing the number of closures which are collected and recycled, and the AB 319 California proposal in the US, which intended that plastic closures remain attached to containers.
ACT now
Meanwhile, UNITED CAPS and LyondellBasell displayed the results of an extensive collaborative effort at the recent K 2019.
Following the EU Commission's 2018 proposal for requiring tethered closures for single use plastics, UNITED CAPS spearheaded the Alliance for Closure Tethering (ACT) to bring together segment leaders in the packaging industry to conduct an impact assessment of various tethering solutions on existing neck finishes and to determine finishing changes that might be required.
Tethered closures present challenges for the industry which are more effectively faced by value chain collaboration. According to Astrid Hofmann-Leist, chief marketing and innovation officer at UNITED CAPS, the challenges are both financial and design-orientated. "Cost of the closures themselves and integration into production lines were key considerations," she told Packaging Europe. "At the same time, it was crucial to provide solutions that are acceptable to consumers, and therefore to brand owners."
This understanding led to a collaboration between UNITED CAPS and LyondellBasell (which developed new resin grades for the new directive, featuring high stress cracking resistance and enhanced organoleptic properties), engineering specialist Krones (ensuring compatibility with existing lines) and brand owner Spa. Together, the partners worked on specifications for a range of concepts and tested these on consumers across Europe to understand how they would be received. Successful prototypes included a snap closure, a standard screw-on closure with different slitting, and a screw-hinge-snap hybrid.
The entire collaboration, rather remarkably, proceeded from conception to multiple solutions ready for launch in ten months.
"Collaborating to turn a problem into an opportunity turned out to be highly effective, and thanks to the agility of this partnership and the learnings that have come out of it, we have an opportunity to influence the new industry standards that are not yet finalised," commented Astrid Hofmann-Leist.
Adapting design considerations
Closure design can also take in other considerations from a sustainable point of view, such as by reducing the need for new bottle sleeves and bottle dimensions (thus reducing material).
SIG announces the launch of the new combiMaxx closure, which the company says will offer consumers a new level of convenience, while allowing existing customers to upgrade their packaging without a major investment or the need for new sleeves.
With a large pouring diameter of 25mm, combiMaxx offers an optimal product flow and perfect stream controllability. The large cap makes it easier and more comfortable for consumers to open and reclose the pack in one easy step. A highly visible, tamper-evidence ring gives consumers the confidence that the package has not already been opened. Fully resealable and leak-proof, combiMaxx also ensures that opened packs can be stored safely in the fridge. The design of combiMaxx uses approximately 4.5% less plastic than combiSwift.
"At SIG we're committed to offering product innovation and differentiation," says Hanno Bertling, Senior Product Manager Closures at SIG. "With our latest convenient combiMaxx closure, we can now offer our customers a cap that will help to increase brand loyalty among new and existing consumers. combiMaxx guarantees unbeatable pouring action, easy handling and spill-free horizontal and vertical storage."
Since the base plate dimensions and sleeves remain unchanged, SIG has made it simple for existing customers to switch from combiSwift to the new combiMaxx closure – without requiring a major investment.
Additionally, combiMaxx can be combined with all of SIG's existing mid- and large-size carton formats, starting with combiblocSlimline, combiblocMidi and combifitMidi. Colour options include white, red, blue and green, with additional colours available upon request.
"The transition for our customers to use the new closure system is easy to implement without any significant cost," said Bertling. "We want to ensure the food and beverage industry can adapt quickly to fast-paced consumer needs to guarantee ongoing competitive advantage."
Can securing caps secure our future?
With small but intelligent changes to the design of plastic bottle caps, the packaging industry is highlighting how design is significant towards streamlining the overall journey of packaging throughout the value chain.
As well as providing convenience for the consumer, tethered bottle caps can solve a waste problem, and help towards sustaining our planet. One small cap at a time may make a mountainous change to our global waste problem.