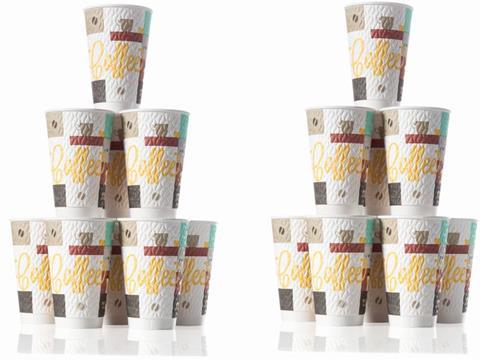 BillerudKorsnäs is showcasing a range of innovative solutions for food and non-food applications at interpack 2017 (Dusseldorf , May 4-10, Booth C24, Hall 9).
Packaging Europe had the opportunity to visit the company's stand to see how the BillerudKorsnäs' investments in its corrugated and paper manufacturing facilities resulted in an extended range of sustainable paper and corrugated products, stretching the possibilities of what these materials can do.
Offering advanced technologies that deliver premium value to brand owners, converters and packaging designers, BillerudKorsnäs is meeting packaging industry demands for optimized sustainability, shelf appeal and functionality.
"Consumers are increasingly making more educated decisions about the products they purchase and the impact they have on the environment," says Peter Malmqvist, marketing director at BillerudKorsnäs. "At BillerudKorsnäs we set high standards for sustainability, and by partnering with us, brand owners and converters can incorporate sustainable packaging into their operations."
Investing for the future In line with the company's strategy, in December 2016 BillerudKorsnäs decided for a historic 5.7 billion SEK investment to construct a new board machine and rebuild the existing pulp mill at the company's Gruvön production site. This strategic decision was taken as a result of growing global demand for sustainable food and beverage packaging solutions. The machine will produce liquid packaging board, cartonboard, food service board and liners at an annual capacity of 550,000 tonnes, making it one of the largest of its kind in the world.
Survival of the fittest with corrugated solutionsFor brands looking for corrugated options to transport fragile goods, BillerudKorsnäs presents exceptionally strong new Billerud Flute® material for fresh fruits and vegetables as well as fragile heavy goods. Brands can reduce material consumption without compromising on packaging performance. Additionally, thanks to the lightweight structure of the new Billerud Flute®, costs for freight, logistics and handling can be significantly reduced.
With a unique combination of strength and printing properties, BillerudKorsnäs' white liners offer the perfect fit for brands aiming to "naturally" stand out at point of sale. Strength, purity, hygiene and exceptional printability are the key benefits of BillerudKorsnäs liners, which can be used for a broad range of applications, from take-away pizza boxes to shelf-ready solutions for premium spirits.
New alternatives for flexible solutions In order to meet the growing global demands for white Machine Glazed paper, BillerudKorsnäs decided for a significant investment by expanding its Skärblacka manufacturing facility in Sweden into a unique world-leading center for white MG papers. The company will also present its BillerudKorsnäs ConFlex® portfolio – a range of strong, consistent and reliable flexible paper products that deliver superior product protection while retaining their form. In addition, new compostable solutions for dry food products are being introduced.
Teaming up for a revolutionThrough collaboration between BillerudKorsnäs and Bosch Packaging Technology, retailers and consumers are now able to choose a sustainable alternative to plastic packaging of dry food products. Together, the companies developed Sealed Paper Packaging made of BillerudKorsnäs Axello® ZAP paper - the world's first dust-tight, sealed paper packaging for products such as sugar, grains, flour and pasta. The solution is a combination of BillerudKorsnäs' paper expertise and Bosch's competence in packaging machinery. It is made of a mono-material paper, keeps retail shelves and pantries dust-free, while keeping products tightly sealed and protected. The positive reaction of the market to the launch of Sealed Paper Packaging led to an extension of the ZAP-Module to more machines within Bosch portfolio which are presented at booth A30-C58 in hall 6.
The trend of moving away from single used plastic packaging is also visible in the consumer bags category. To meet this market demand, BillerudKorsnäs is showcasing its range of Billerud Korsnäs Xpression Kraft paper at interpack, which guarantees strength and stiffness along with excellent printability.
Designed to exciteAmong the company's other innovations for building greater consumer preference is BillerudKorsnäs FibreForm® – a sustainable paper material with unique forming capabilities that captures consumer attention at point of sale. The material offers exceptionally deep embossing, resulting in greater interaction between brands and consumers throughout the product life cycle. Being a natural alternative to plastic packaging, FibreForm is benefitting a broad range of applications such as trays and blister packs, stand up pouches as well as cups and container sleeves, just to name a few.
Additionally, FibreForm formed container solutions are provided through FreeFormPack, a joint venture company between BillerudKorsnäs and Curti Costruzioni Meccaniche. The joint venture company offers an inline packaging system - brand owners can simply integrate customized packaging into their existing production process. For more information visit booth C56/ Hall 15.
More info: