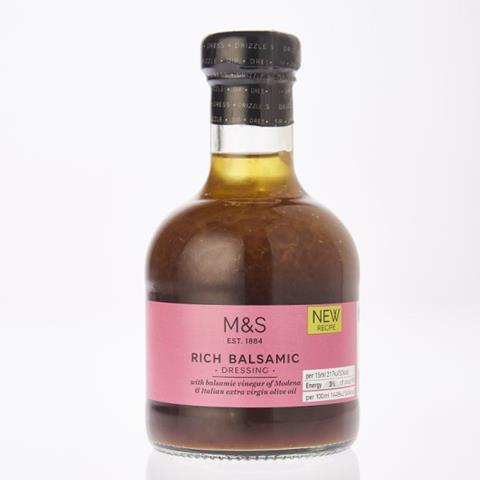 M&S own-brand salad dressings are now being sold in smaller, more stylish bottles made by Beatson Clark after research showed that consumers found themselves throwing too much dressing away.
English Provender Company (EPC) conducted research for M&S which found that customers thought the existing salad dressing bottle was too big. As a result they often threw away the unfinished product when they felt it had passed its use-by date, creating unnecessary waste.
They also wanted a bottle that would look attractive on the dinner table and offer greater control when pouring; although a beautiful design, the existing bottle (a bespoke embossed 275ml dressing bottle) was quite large and the neck was too wide, making it difficult to control the pour and portion control of some of the salad dressings.
EPC and M&S asked Beatson Clark's in-house design team to create a new bottle which would respond to this customer feedback while also taking into account technical considerations such as line constraints and fill speeds. The resulting 235ml container is a smaller stand-out artisan bottle with a narrower neck which allows consumers to control the flow of dressing more easily.
"Our new dressing bottle looks small but substantial and was designed following extensive testing to make sure it fits into the average fridge door much more easily than its predecessor, as well as being easier to pour from," said Kevin Vyse, Lead Packaging Technologist at M&S.
"With its minimalist and simple design the new bottle looks very different to anything else on the market at present. The clear glass, which contains on average 30% recycled material, lets the consumer see the product within and gives the quality feel we were looking for."
The salad dressings EPC makes for M&S all have very different textures, and some are thinner than others, so all the recipes were tested at ambient and fridge temperatures to ensure that they poured easily.Lynn Sidebottom, Sales and Marketing Director at Beatson Clark, added: "We were delighted to be asked to create this new dressing bottle for M&S on behalf of our long-standing clients English Provender Company.
"Our technical innovation and our flexibility are two of our strengths and everyone is really pleased with the finished container."