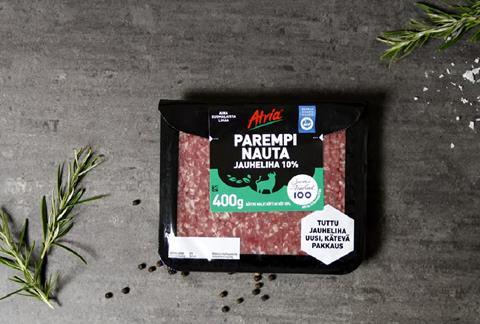 "Atria Easy Open Vacuum Pack" designed by Packdesign ID was once again among the most successful packages in the world, as it received the WORLDSTAR 2018 award by the World Packaging Organisation (WPO).
Previously this year the package won the Scandinavian packaging competition Scanstar 2017 and convinced the international jury to issue the package also with a "First choice" honorary mention as the Best of the Best in the competition. The revolutionary vacuum pack was also chosen as the "responsible packaging act of the year" by the K-Ruoka Awards in Finland.
Packdesign ID and Atria's co-developed new "Atria Easy Open Vacuum Pack" entered the Finnish market in February 2017 and its features are totally superior to all earlier ground beef packaging. The new vacuum pack is revolutionising the ground beef market. "Easy to open" is seen in a completely new and unique way – no scissors needed, pull the tab to open the package. The ground beef is easy to remove from the opened package and put in a pan or bowl for preparation.
In addition to the exceptional ease of use, there is over 50 % less packaging material in the vacuum pack, compared to all other ground beef packages on the Finnish market. The packaging adapts perfectly to the shape of the product, saving space during transport, in the store, in customers' shopping bags, in the refrigerator, and in the trash bin. Additionally, the ground beef is packaged without the use of packaging gases and allows for a longer shelf life in the store. Atria produces the packaging in its own facilities. The new package design is registered.
For Packdesign ID and Atria this was the second Worldstar award as the "Atria Easy Open Pack" for cold cuts won the Scanstar award in 2014 and the Worldstar award in 2015.
"Atria is a forerunner in the Finnish food packaging development sector and it has been a true privilege to work alongside them. The Worldstar award is also an indication of the high quality of Finnish packaging design and development work," says the head designer for the package concept design and CEO of Packdesign ID Maija Olkkonen-Seppo.
"Our long-term collaboration with Packdesign ID has produced unique packaging solutions that oer our products and Atria brand a true competitive edge. The packages have been also awarded as the best in the world in their own respective categories, and also the consumers have noticed how these packages have eased their everyday lives," comments Product group manager Anna Kultalahti from Atria Suomi Oy and continues, "the Worldstar award is an indication of the top of the world quality of the Finnish packaging development knowledge, but at Atria we are particularly happy to see how the consumers have embraced the new package: we have never received this much positive feedback on our packages."
More info: