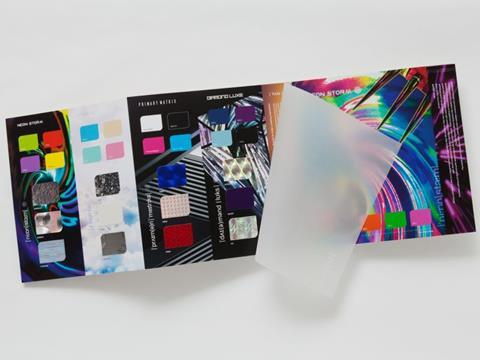 API Group will unveil the latest trends in luxury packaging, as it debuts it's 2018/19 Trends Folio at Packaging Première in Milan this month.
API has used its global network and specialist technical experts to identify key creative trends and showcase how an intelligent use of foils, laminates and holograms can empower premium brands to capitalise on market changes in the coming year.
An evolution of the 2017/18 Trends Folio, the second edition has been designed to encourage innovation at all stages of product development – making it a must-have tool for brand owners, designers and printers.
This year's four key trend drivers are:
• Neon Storm - taking inspiration from natural phenomena such as sunbursts
• Diamond Luxe - encapsulating high-end luxury through diamond finishes and facets• Primary Matrix – capitalising on light manipulation through technical finishes
• Ethereal - using API's unique Holonique™ technology to create soft hues and lustres
David Peters, Creative Development Manager at API Group said: "In today's competitive market, it is essential that brand managers create an on-shelf identity that resonates with their customers.
"Our Trends Folio empowers designers and brand owners to create an engaging brand experience and ensure their products consistently outshine the competition.
"Packaging Première is the perfect place for us to share this insight and we hope it will help designers, printers and brand owners understand the role these trends can play in increasing brand impact in 2018 and beyond."
At Packaging Première, API will also showcase its industry-leading Transmet™ film-free laminate, which enables brands to develop luxurious packaging finishes which are sustainable and recyclable.
Brand owners will also have the chance to see examples of API's new TA-Plus cold foil. This is the most advanced cold foil on the market, offering exceptionally fine detailing, the capability to cover large packaging surface areas, as well as outstanding over-printability.
API's Trends Folio and wider product range will be displayed at stand F70 at the Packaging Première show 15th – 17th May. David and the API team will be on hand to present the 18/19 Trends and demonstrate the shelf appeal and brand empowerment that its packaging innovations have helped major global brands to achieve over the last twelve months.