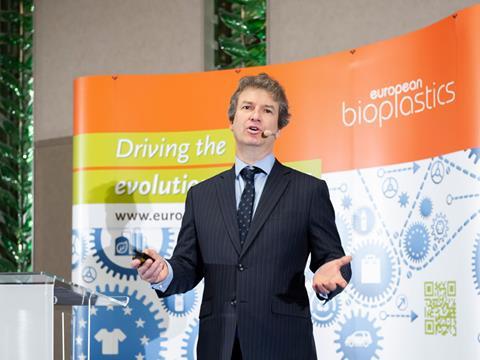 The 14th European Bioplastics Conference, which took place on the 3rd and 4th of December, saw a strong focus on growth and innovation. The sold-out event brought together 400 senior executives from across the bioplastics value chain, including brands, policymakers, academia, producers and NGOs.
In his opening speech, François de Bie, Chairman of European Bioplastics (EUBP), reflected on the highlights of the past year: "European Bioplastics and the entire bioplastics industry is looking back at yet another successful year with outstanding and inspiring innovations", said de Bie. "It is a pivotal time for our industry as the European Union is serious in developing from a linear to a circular economy. This provides us with a unique growth opportunity. The new EU Commission recently announced a Green Deal for Europe and bioplastics will play a crucial role in helping to achieve it", he added.
During the next session, Werner Bosmans from the European Commission's Directorate-General for the Environment explained the EU Commission's policy by giving an outlook on its initiatives stemming from the Circular Economy Action Plan as well as the Plastics Strategy. It became clear that plastics remains high on the political agenda. The Commission aims at further developing the framework for bio-based as well as biodegradable and compostable plastics. Key activities, amongst others, will also include the Life-Cycle-Assessment of different feedstock alternatives for plastics, the development of preliminary criteria for the beneficial use of compostable plastics, as well as a study on biodegradability in the open environment and one on agricultural plastics. Danone Water's Philippe Diercxsens provided a differing industry perspective on the EU's policy on plastics and emphasized the need for more coherence between the individual Commission activities.
Later in the conference, participants received an update on recent innovations in food packaging, with a special focus on the benefits of compostable packaging material made of biopolymers. During a session on innovative materials, producers introduced their latest developments – ranging from footwear to cosmetics. As part of the brand owner session, a 100 percent recyclable bottle made of bio-HDPE and bio-TPE was presented by Damir Perkic, founder of BE O. "This product helps to reduce single-use bottles", Perkic said. The innovation manager at VAUDE, Clément Affholder, provided insights on the role of bioplastics in his company.
The Global Bioplastics Award of this year went to Bio4Self, a consortium of research institutes and companies collaborating on a project to develop self-reinforced composites based on PLA fibres.