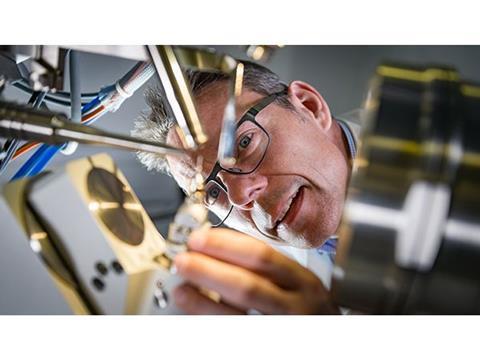 Chief Executive of the Diamond Light Source, Professor Andrew Harrison, said: "The detail that the team were able to draw out from the results achieved on the I23 beamline at Diamond will be invaluable in looking to tailor the enzyme for use in large-scale industrial recycling processes. The impact of such an innovative solution to plastic waste would be global."
With help from the computational modeling scientists at the University of South Florida and the University of Campinas in Brazil, the team discovered that PETase looks very similar to a cutinase, but it has some unusual features including a more open active site, able to accommodate man-made rather than natural polymers. These differences indicated that PETase may have evolved in a PET-containing environment to enable the enzyme to degrade PET. To test that hypothesis, the researchers mutated the PETase active site to make it more like a cutinase.
And that was when the unexpected happened – the researchers found that the PETase mutant was better than the natural PETase in degrading PET.
Significantly, the enzyme can also degrade polyethylene furandicarboxylate, or PEF, a bio-based substitute for PET plastics that is being hailed as a replacement for glass beer bottles.
Professor McGeehan said: "The engineering process is much the same as for enzymes currently being used in bio-washing detergents and in the manufacture of biofuels – the technology exists and it's well within the possibility that in the coming years we will see an industrially viable process to turn PET and potentially other substrates like PEF, PLA, and PBS, back into their original building blocks so that they can be sustainably recycled."
The research was funded by the University of Portsmouth, NREL and the Biotechnology and Biological Sciences Research Council (BBSRC).
Dr Colin Miles, Head of Strategy for Industrial Biotechnology at BBSRC, said: "This is a highly novel piece of science based on a detailed molecular-level understanding of an enzyme able to depolymerise a common type of plastic, whose persistence in the environment has become a global issue. It will be interesting to see whether, based on this study, the performance of the enzyme can be improved and made suitable for industrial-scale application in the recycling and the future circular economy of plastic."
The paper's lead author is postgraduate student jointly funded by the University of Portsmouth and NREL, Harry Austin.
He said: "This research is just the beginning and there is much more to be done in this area. I am delighted to be part of an international team that is tackling one of the biggest problems facing our planet."