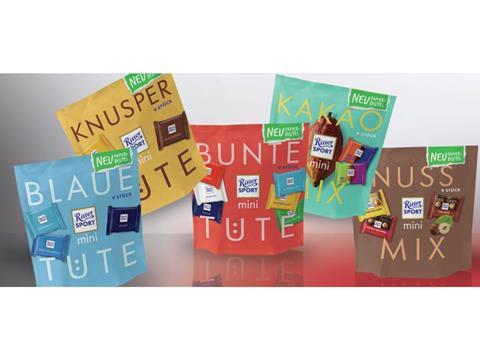 "There is a clear trend when it comes to packaging material options," says Mr. Kallies.
"Paper scores points right across the board, and is already making an active contribution towards the objectives of a circular economy. With our flexible paper packaging solutions, we're reducing the proportion of plastic in product packaging and making the world a bit more sustainable in the process."
Some small trade-offs had to be made with the new paper packaging.
"For the secondary packaging of our mini mix pouches, we had to make some compromises, for example with the colouring. Ritter Sport is known for its bright colours and on paper, it just doesn't appear as shiny" says Mr. Steinle.
Looking to the future
He explains that as the company continues its work towards further developing paper primary packaging, some product specific challenges could arise.
"Shelf life could be affected during our further development of primary packaging. Furthermore, paper and a product rich in fat such as chocolate do not always get along well. We have a wide range of chocolate bars with different ingredient and requirements. For example, with our rum and raisins chocolate, there's increased humidity due to the soaked raisins. With our tablets with cornflakes, there are potentially sharp cornflakes edges sticking out."
For Ritter it is merely the first step towards more sustainable packaging. Initial field tests with primary packaging have also been carried out commercially, and have been embraced by consumers.
"We are working on our goal to only use packaging materials, which are made from renewable resources and can be recycled in a value stream. Therefore, we have to look on a global scale and take the options of global recycling systems in consideration. As of today, we see in paper the best available value streams in the international scale and collecting paper is already a learned recycling. Paper offers lots of future options and we are happy to participate in this process at such an early stage with competent partners on our side. We are aware that we have to work close together with our partners in order to continuously optimize material properties & process parameters," concludes Mr. Steinle.