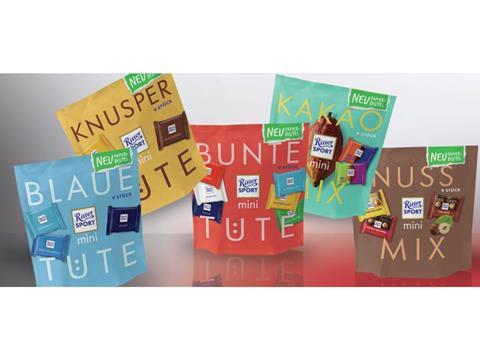 Alfred Ritter GmbH & Co. KG recently switched its Ritter Sport "Mini Mix" packaging from trays wrapped in plastic film to a stand-up pouch made of paper. By 2025, Ritter Sport has set itself the ambitious goal to replace all of its packaging with paper-based solutions.
Following initial tests with paper-based primary packaging last year (Packaging Europe reported), "Mini Mix" is the first product permanently available in the range with secondary packaging made entirely of paper.
For Mini Mix, Ritter uses Koehler's flexible packaging paper. Koehler NexPlus® is barrier-coated paper with capabilities including barriers for odours, grease, mineral oil, water vapor, and also gases, which combine with the paper's inherent capabilities, such as, for example, high strength properties and a natural feel.
The requirements placed on packaging paper are high - it should possess the same capabilities as plastic duplex materials. This includes sufficient product protection and an attractive appearance at the point of sale, as well as the ability to serve as a communication tool. Additionally, in a best-case scenario, it should be possible to continue to use existing packaging lines without the need to make major adjustments when switching to paper.
Tackling machinery challenges
With two production sites in Germany and Austria, Ritter caters for the global market. Syntegon packaging machines are used at both locations. Moritz Steinle, Packaging Development Engineer at Alfred Ritter, explains: "We initially carried out several test runs with Koehler's NexPlus® Seal paper, without putting anything inside at first, and during a gradual process got closer and closer to an optimal solution by making small adjustments."
The most important aspect was the heat-sealing process, which proved essential for neat product packaging.
"Sealing temperature, sealing time, and sealing pressure all need to be optimally coordinated in order to seal the finished packaging product neatly. We placed great importance on all of these criteria during the qualification process of the packaging material," continues Mr. Steinle.
"We use Koehler NexPlus® Seal Pure 65 g to make the mini mix pouches. For now, both Koehler's flexible packaging paper and the classic plastic duplex can be used, which continues to provide flexibility."
We asked Mr. Steinle to tell us more about the collaborative process to get better idea of how complex the adaptation was.
"We have been working with both Koehler Group and Syntegon in long-term relationships. For the packaging material for the doy pack we had to find a paper material which was on the one hand strong and stiff enough to endure the mechanical and tensile stress and on the other hand had a certain flexibility to form and fold the material on a vertical packaging machine. Furthermore, we had to consider printability. The machine was originally designed for plastic film applications. Beside the above-mentioned mechanical requirements for the paper material for general machinability, we had to consider the specific product geometry, the falling height, as well as the right parameters for the sealed areas (temperature and pressure) for the filling process. Together we developed the necessary adaptions to this machine, which is now able to pack different materials as well as different style packs."
Paper and sustainability
A life cycle analysis of Koehler's flexible packaging paper shows a significant reduction of CO2 compared to conventional PE-coated paper and even plastic duplex products, says Eckhard Kallies, Head of Flexible Packaging Paper at Koehler. He underlines the importance of the role developments in paper can play in a circular economy:
"Barrier paper is part of our future vision. Paper has an increasing number of capabilities that in the past only plastics could offer. The difference with paper is that it has a much more sustainable life cycle."
Sustainability and recyclability were the key requirements for the paper developed by Koehler in collaboration with Ritter. Requirements that have been successfully fulfilled, given that consumers can simply dispose of the mini pouches in paper recycling trash cans so that they can be turned back into paper or cardboard.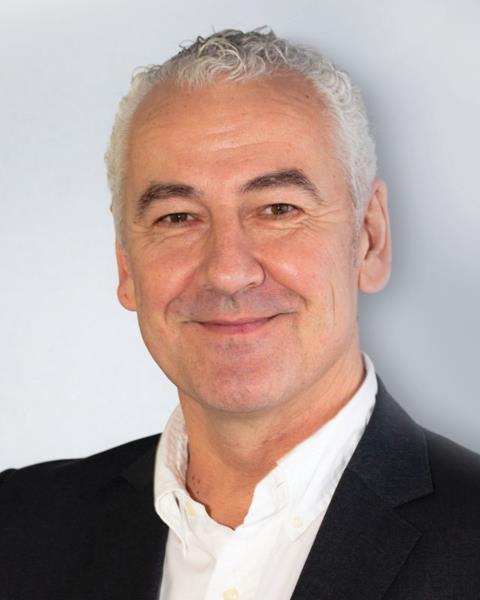 "There is a clear trend when it comes to packaging material options," says Mr. Kallies.
"Paper scores points right across the board, and is already making an active contribution towards the objectives of a circular economy. With our flexible paper packaging solutions, we're reducing the proportion of plastic in product packaging and making the world a bit more sustainable in the process."
Some small trade-offs had to be made with the new paper packaging.
"For the secondary packaging of our mini mix pouches, we had to make some compromises, for example with the colouring. Ritter Sport is known for its bright colours and on paper, it just doesn't appear as shiny" says Mr. Steinle.
Looking to the future
He explains that as the company continues its work towards further developing paper primary packaging, some product specific challenges could arise.
"Shelf life could be affected during our further development of primary packaging. Furthermore, paper and a product rich in fat such as chocolate do not always get along well. We have a wide range of chocolate bars with different ingredient and requirements. For example, with our rum and raisins chocolate, there's increased humidity due to the soaked raisins. With our tablets with cornflakes, there are potentially sharp cornflakes edges sticking out."
For Ritter it is merely the first step towards more sustainable packaging. Initial field tests with primary packaging have also been carried out commercially, and have been embraced by consumers.
"We are working on our goal to only use packaging materials, which are made from renewable resources and can be recycled in a value stream. Therefore, we have to look on a global scale and take the options of global recycling systems in consideration. As of today, we see in paper the best available value streams in the international scale and collecting paper is already a learned recycling. Paper offers lots of future options and we are happy to participate in this process at such an early stage with competent partners on our side. We are aware that we have to work close together with our partners in order to continuously optimize material properties & process parameters," concludes Mr. Steinle.