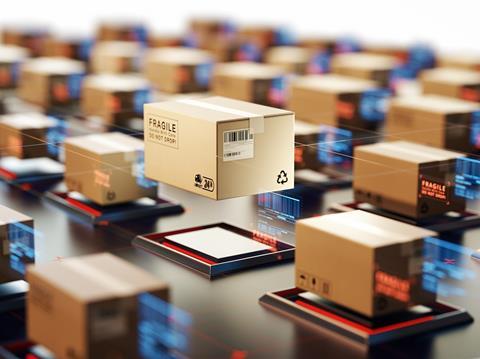 Libby White looks back on some of the defining innovations of the year, whose significance is gauged not just in terms of market impact, but also in the way they are emblematic of two megatrends that have dominated the year in packaging.
The common goal
Sustainability. The buzzword on everyone's lips. The predominant theme on exhibition stands across Europe. The common goal of the whole packaging supply chain. 2018 has been pivotal in the drive for results.
Packaging Europe published a monumental 640 articles this year online which mention sustainability and championed some of the leading innovations and philosophies at our Sustainability Summit and Awards 2018.
Many supermarkets and global brands have pledged targets over the next few years, for example: Nestlé aims at 100 per cent reusable or recyclable packaging by 2025, P&G released its 'packaging sustainability: ambition goals 2030' citing partnerships and collaboration as vital to make meaningful progress, Costa Coffee announced a commitment to recycling the same volume of cups it puts to market, and Mondelēz International announced a new commitment to make all packaging recyclable and provide recycling information by 2025.
The European Parliament recently approved a ban on single-use plastics which will see 2019 ramp up innovation. The New Plastics Economy Global Commitment led by the Ellen MacArthur Foundation, in collaboration with UN Environment, was signed by many of the world's largest packaging producers, brands, retailers and recyclers, as well as governments and NGOs.
We've seen innovation across the board, here are our top picks which embody the spirit of sustainability:
Monopolymer
Sustained R&D efforts over many years have borne fruit in 2018 with the emergence of significant advances and genuine breakthroughs.
In September (in a world exclusive) Packaging Europe broke the news of Amcor's game-changing polyolefin-based flexible substrate for ambient and retort high-barrier applications that matches the performance of existing multi-material structures. This OPP film with silicon oxide coating is the platform for a flexible packaging portfolio catering to a wide range of applications, from ready meals and pet food to snacks and coffee.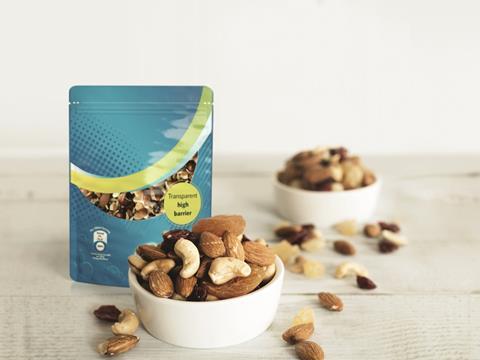 The retortable grade sets new benchmarks with barrier performances of <1cc oxygen and <1g moisture after converting and retort (numbers which align with the top performing non-recyclable barrier films currently on the market, for instance PET barrier films).
Also this year Mondi introduced its BarrierPack Recyclable, a laminate that is fully recyclable where a suitable recycling infrastructure exists. In places where the infrastructure is catching up to material innovations, BarrierPack is considered 'recycling ready'. CeDo Recycling, a pioneer in recycling technologies, proved the material's compatibility via extensive validation trials. The key innovation in BarrierPack is the addition of a gas barrier between the its PE layers. This opened up new high-volume markets for the material – most notably in fresh food and other food products requiring modified atmosphere packaging.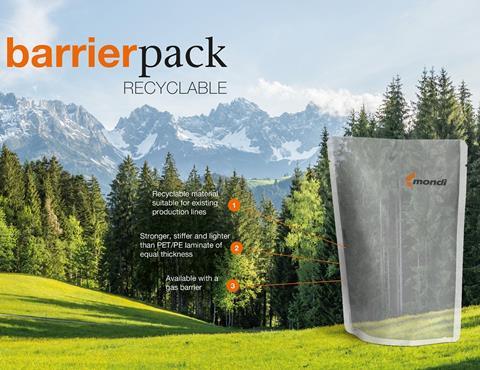 Snap Pack
Another attention-catching sustainability innovation was Carlsberg Group unveiling of a groundbreaking packaging innovation as part of its ongoing sustainability pledge, Together Towards Zero. The new 'Snap Pack' replaces traditional, bulky plastic rings with a pioneering solution that instead bonds multipacks of cans together.
A sustainable packaging solution, the new Snap Pack holds Carlsberg Expørt cans together in a multipack form with small pieces of a specially developed glue in small dots, which are easily snapped apart when required, but robust enough to stand up to handling to and from the store.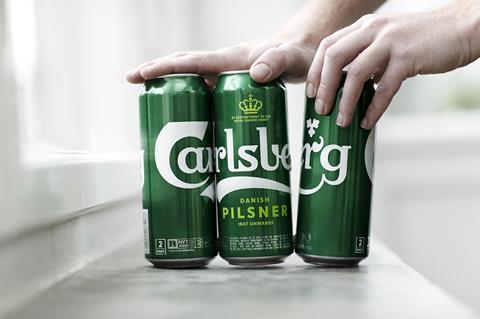 Using minimal plastic and limiting waste, as well as reducing CO2 emissions and the reliance on fossil fuels, the Snap Pack aims to reduce the Carlsberg Group's global plastic usage by more than 1200 tons - from brewery to store - annually once the roll out onto all four, six and eight packs across all Carlsberg variants in 11 markets is complete.
Biodegradable capsules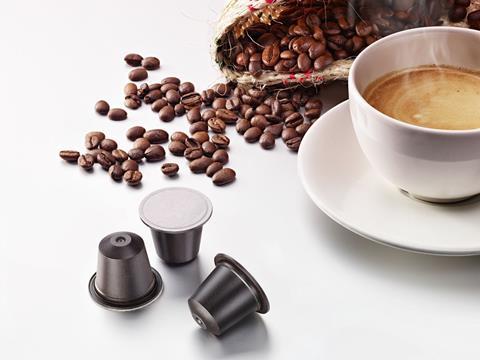 In cooperation with Golden Compound, ALPLA brought a world first onto the market: a biodegradable coffee capsule that consumers can dispose of in their home compost.
The capsule is made from the material Golden Compound green. This comprises an organically based material and ground natural fibres from sunflower seed shells. The capsule and filter fleece are completely biodegradable in the garden compost within a maximum of six months and are free from aluminium and genetically modified organisms. ALPLA provides its customers with the capsule and the garden-compostable lid.
Browsing redefined
The second big trend driving innovation this year has been the continuing rise of the omnichannel. More and more brand owners are looking for packaging solutions that cater to e-commerce and home-delivery retail streams.
API commissioned a survey of brand owners and marketing managers earlier this year. Exactly half of all respondents believed that the retail and e-commerce space were equally as important when it comes to product sales, something that couldn't have been envisaged five years ago.
Online grocery shopping is growing at a double-digit rate, while traditional stores are being reinvented, merging together into an omnichannel where consumers expect to be able to buy whenever, wherever and however they choose, with the smartphone as their compass. Packaging will play an important role in response to the trends that are shaping the growth of on-line grocery, says Tetra Pak.
Made2fit
DS Smith announced a solution set to be the first ever 3D-adaptable packaging, minimising size and cutting associated costs by up to 60 per cent. This customisable packaging solution enables e-tailers to reduce packaging size and associated costs, including void fill, storage, shipping and administration.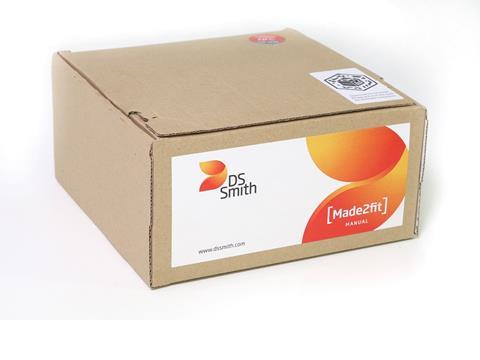 The new technology, called Made2fit, is based on three available sizes of cardboard sheet (mini, small and medium), from which 33 different box sizes can be manually created in a quick and easy way. With built-in crease lines and a tool for custom perforation, the product is the first ever 3D-adaptable packaging – in that it can be modified in three directions.
Made2fit is estimated to reduce void fill by 80 per cent on average and achieve a potential cost saving of 30 per cent on inbound and outbound shipping.
Amazon Dash
The Amazon Dash Replenishment Service Solution Providers program enables systems integrators to bring new DRS-enabled devices, which automatically reorder physical goods from Amazon.com, to their customers.
As one of the first certified DRS solution providers, Jabil Packaging Solutions delivers specially designed smart packaging and devices with embedded technology that senses when new supplies are needed. When the contents are running low, the packaging containers use DRS to trigger an order from Amazon, delivering new supplies to consumers at the right time.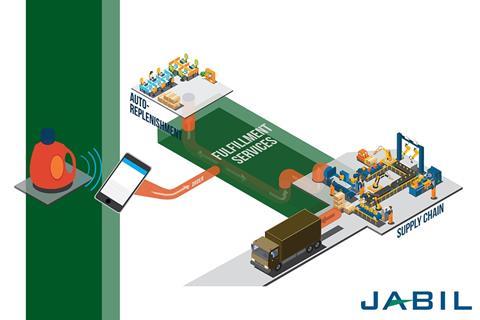 Jabil's digital replenishment solutions with DRS will serve consumers through a smart container that senses product usage, with or without an accompanying smartphone application. Product modifications—such as changing the flavour, size, delivery date or re-order threshold—are at the user's discretion. This customizable, frictionless repurchasing reduces and simplifies the complexity of tracking stock, remembering what needs replacing, making lists and planning store trips. Use of DRS's 'Dash Button' has already demonstrated the measurable impact re-order convenience has on product sales for brands.
M&H Postal Pack
RPC M&H Plastics created a range of packaging solutions designed to be easily posted through letterboxes to cater to the growing e-commerce market.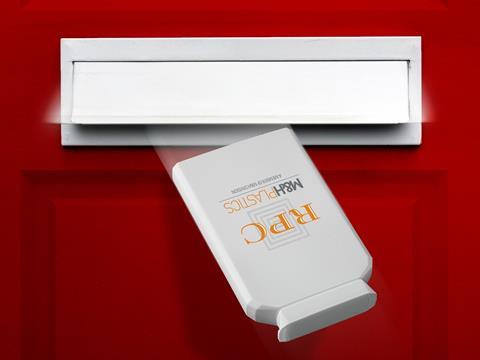 M&H's new Postal Pack range addresses this demand for a range of solid and liquid products. Ideal for mail order, the pack is available with varying neck and closure specifications to fit different product requirements. The standard solid dose variants are available in 150ml, 200ml, and 320ml, which the standard liquid option complementing the range at 300ml.
M&H's foil sealed, tamper-evident closure and retained wadding, ensures that freshness and security is guaranteed for each delivery.
Due to the growth of e-commerce luxury brands have increased their digital presence which means that more rigid boxes are delivered directly to the consumer's door. There the boxes can create a memorable impression through a 'surprising' unboxing experience. As significant as it is to create emotions towards the brand, it is also important to ensure that the box protects the content all the way to the consumer, and still conveys the brand message.
The industry is already deep in the sea of change for sustainable solutions within the retail sphere, however the rise in e-commerce and the need to tackle packaging waste in this sector is crucial over the next few years. Now is the time for a paradigm shift: prevention rather than cure for how we package the future buying habits of consumers.