Announcing the finalists of the Sustainability Awards 2018! The seventeen independent judges for the leading competition for innovation in sustainable packaging have graded all the submissions over the summer – and this week Packaging Europe is revealing the top four entries in each category. The six category winners and overall Sustainability Awards 2018 winner will be unveiled at Scanpack on 23 October.
Here (in alphabetical order) are the four finalists in the 'Bio-Based' category, which celebrates the development or innovative use of bio-based materials with significant positive potential in packaging applications:
Finalist A:
AgriRAP - submitted by Rapid Action Packaging Ltd
Overview
The AgriRAP sandwich-wedge comes from RAP, campaigning on 'Removing-Avoidable-Plastics' in the food packaging industry. This is a fully-bio-based, home-compostable and widely-recyclable solution, consisting of a high-quality paper-board made from agricultural waste deriving from stems and leaves left behind after harvest. These crops include wheat, rice, corn and sugarcane, where only 20% of the plant is used for food. RAP uses the remaining 80% of the fibres to convert into board. To enable visibility on the packaged food, protect it and keep it fresh for longer, this board is laminated to a biofilm made of wood pulp from managed plantations. The film is also compostable in both industrial and home composting environments, as well as suitable for anaerobic-digestion and marine biodegradation.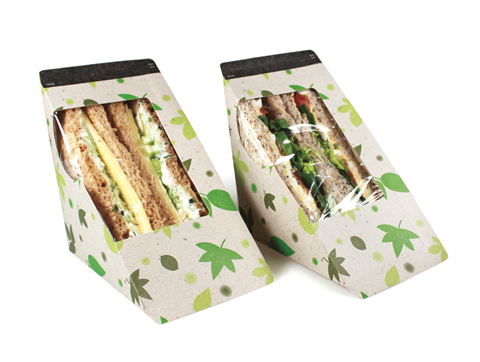 SIG's carton packs contain up to 82% paperboard from renewable wood sources. What's different are the plastics in SIGNATURE PACK. They're now linked to a plant-based material (tall oil) via mass balance systems.
Impact
The raw material for the feedstock is tall oil – a waste by-product from the paper industry.This provided SIG with the opportunity to decouple from fossil resource consumption and switch to a renewable feedstock basis. The renewable feedstock in this case can be regrown as it is from trees from sustainable European forestry.
The mass balance plastics are certified under recognised certification schemes: ISCC Plus and TÜV SÜD CMS71, which allows for traceability.
SIG understands the criticalities around food crop usage, animal feedstock basis, land use effects, etc. It also understands limitations of small-scale bioplastic productions. Such are connected to a single biomass feedstock source and provide single or small variation in plastic grade output. Together with its polymer suppliers, SIG therefore created a sustainable solution by using a residue / by-product from the paper-making process. This fosters the transition from a petroleum plastic industry towards a bio one, while not affecting staple food crops.
With SIGNATURE PACK, SIG is now able to offer a packaging solution that answers to industry needs, and to the growing environmentally-conscious consumers.
Finalist D:
Sustainable Feedstock for Bio-based LDPE Production - submitted by Dow Europe GmbH
Overview
In an effort to advance the circular economy as per its 2025 sustainability goals, Dow is working with partners to help find and test alternatives to fossil fuels in the production of plastic packaging. The result is a bio-based LDPE solution using renewable feedstock that is produced by converting bio-based naphtha in Dow's cracker into bio-based LDPE.
In a specific pioneering project, Dow worked together with UPM and Elopak to convert tall-oil based feedstocks into bioplastics for beverage cartons. The sustainability of the entire production process has been verified with the renowned ISCC PLUS certification (International Sustainability and Carbon Certification) in September 2017. To obtain this certification, Dow entered into an agreement with UPM, the producer of bio-naphtha out of tall oil – a waste product from wood processing industry. Tall oil does not interfere with the food chain which has been an important selection criterion for Elopak. For each kilo of packaging material, one kilo of renewable feedstock needs to be credited to the system, and the balances of each partner in the supply chain are audited once per year.
Apart from beverage cartons, other potential applications could be collation shrink films or several packaging layers – all ideas are currently in discussion with customers. In order to help customers accelerate their own agenda towards a circular economy, Dow is offering this certified solution to meet the market demand for more sustainable packaging solutions based on renewable feedstocks.
Impact
The major environmental advantages are that fossil fuel is conserved because every ton of the bio-based naphtha that Dow converts into bioplastics reduces one ton of fossil raw materials used.
An additional positive sustainability aspect is that by using a bi-product from wood production in the example mentioned, a usual production waste is turned into and reused for something valuable.
Want to be the first to know the winners of the Sustainability Awards 2018? You're welcome to join us at the Awards ceremony and the Sustainable Packaging Summit at Scanpack in Gothenburg on 23 October 2018. Contact Packaging Europe by email or Twitter for details.