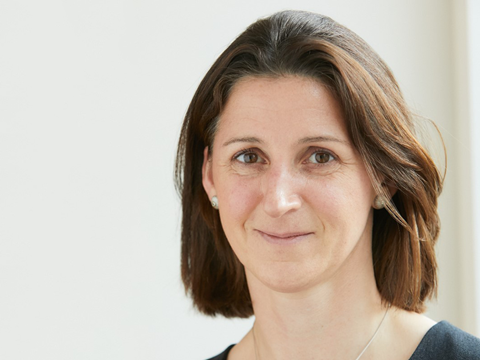 In an exclusive comment feature, Lucinda Langton, director of sustainable packaging at Coca-Cola Europacific Partners, unpacks the company's steps towards creating a low carbon, circular economy for plastic.
At Coca-Cola Europacific Partners, like others in the beverage industry, we are accelerating the use of 100% recycled content (rPET) in our plastic bottles. We've set a target of 50% by 2023 and are working towards 100% recycled or renewable by 2030 in Western Europe as a critical action on our path to Net Zero. And we are making good progress. In 2020, 41.3% of the material used in our plastic bottles was recycled content, compared with 30.5% in 2019.
We believe that this is the right direction of travel for us, and for the industry, to create a low carbon, circular economy for plastic – by returning a material value to this resource.
However, as an industry, we must start to view the use of 100% rPET in our bottles today as just one step on a wider journey towards full circularity for plastic packaging.
A low carbon, circular ambition
We support the EU's ambition to build a circular economy for packaging and make Europe a climate-neutral continent by 2050. Our focus is two-fold. First and fundamentally, we are aiming to reach zero waste – by reducing our use of packaging where we can (via lightweighting, removing unnecessary packaging and innovating in refillable and dispensed solutions and services) and by ensuring that the packaging we do use is collected, so the material can be recycled and reused again.
These actions will, in turn, significantly reduce the carbon footprint of our packaging, therefore intrinsically linking our packaging strategy to our second goal - to reach Net Zero greenhouse gas emissions across our value chain in Western Europe by 2040.
As part of this dual 'path to zero,' we want to play our role in helping to create a long-term, low carbon circular economy for PET bottles.
Over the last few years, we and others have stepped up efforts to move towards closing the loop by increasing the volume of recycled plastic used in PET bottles. Such bottles are now more commonplace. For example, in Sweden, Norway, Iceland, and the Netherlands, we will be producing all locally produced bottles from 100% rPET by the end of 2021.
This move to 100% rPET is part of the journey to circularity. But to move towards a closed-loop, low carbon circular economy for PET bottles, we need to collectively look beyond 100% mechanically recycled PET alone.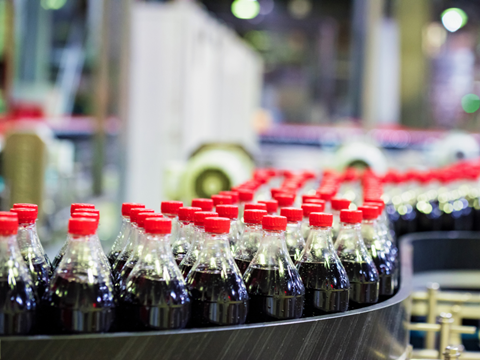 Plastic's circularity solution
Today, PET can be recycled a finite number of times using mechanical recycling techniques. Research suggests PET can be mechanically recycled up to 5-7 times before it loses the required strength needed in a beverage bottle and is downgraded to non-bottle uses. The percentage that is downgraded then needs to be replaced with higher quality mechanically recycled PET that has been through fewer recycling loops or virgin fossil-based PET.
As an industry, we can move towards removing this need for virgin fossil-based PET in the recycling process by replacing it with either 'like-virgin' recycled PET or PET from renewable sources.
So where are we now? Today, depolymerisation technologies are being developed that have the potential to create high-quality, 'like virgin' PET material by converting recycled PET back to its building blocks, which can then be "re-polymerised." While the technology is still in its infancy, the Coca-Cola system has been supporting the development and scaling of these depolymerisation recycling technologies through funding start-ups such as CuRe and Ioniqa.
Coca-Cola is also working on ways to expand availability of renewable content. In 2009, Coca-Cola introduced its innovative plant-based PlantBottle™ packaging and is collaborating with technology providers to further develop this innovative material.
The 'Bottle of the Future: 100% recycled or renewable
Because of these advancements, 'Circular PET' is possible for the entire industry. We believe the future sources of PET will be a balance of:
70-80% recycled PET from mechanical polymer recycling
20-30% like-virgin PET from depolymerisation recycling technologies or renewable sources
In the mid-term, therefore, we see virgin PET being replaced by 'like-virgin' quality recycled PET from depolymerisation or renewable PET feedstock. Our guiding principle however is that mechanical recycling will remain the dominant source of recycled material for our bottles, as it is less carbon-intensive than depolymerisation recycling.
Creating a low carbon circular economy for PET
This is not just about Coca-Cola. It is about how we transition as an industry to removing virgin fossil-based PET in the packaging we do use, alongside further increasing the use of refillable and dispensed formats, with the ultimate aim of creating a no waste, low carbon economy for PET. To do this, there are three areas we need to take action on as an industry.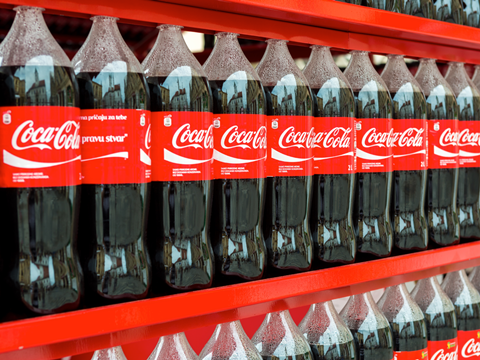 Step-change packaging collection
Aligned with the EU ambition of 90% collection by 2029, we need to collect all our bottles back, so they can be recycled again and again, and so no material goes to litter or waste. We have identified deposit return schemes (DRS), where a proven alternative does not exist, as the most effective way to improve collection rates and reduce litter, provided they are well-designed and run efficiently. As an industry, we must champion their introduction, and expansion, and support legislation on investment and infrastructure development to drive this change.
Ensure bottles can be turned back into bottles
Today a lot of material is downcycled from PET to sheet plastic. We need to ensure that food-grade bottles remain as food-grade PET for future applications. Supporting legislation would help to drive this change.
Increase recycling capacity and capability
If the SUP directive target to collect 90% of bottles is met by 2030, the EU will need to double rPET reprocessing capacity to sort and recycle the tonnage of PET collected. More support is needed for the PET recycling industry through long-term supply agreements with mechanical recycling partners to help them develop further capacity.
Alongside this, we must support improving the capabilities of the recycling industry to convert hard-to-recycle PET waste into high-quality, like-virgin PET. Supporting and funding the scalability of emerging recycling technologies like depolymerisation through investment can help make a low carbon circular economy for PET a reality.
As an industry, we also need to better understand consumer perceptions of the appearance of rPET bottles - which have a slightly greyer tint than current packaging - and the ways in which we can responsibly communicate changes in appearance associated with the use of increased recycled content, and help drive understanding of the sustainability benefits of doing so.
Ultimately, it will take industry-wide collaboration, investment in innovation, and a shift in legislation to achieve a circular economy for PET packaging. We, like others, have a vision that could help us get there. And it starts by understanding that our use of 100% rPET in our bottles today is just one small step in a much bigger industry journey towards plastic packaging circularity.