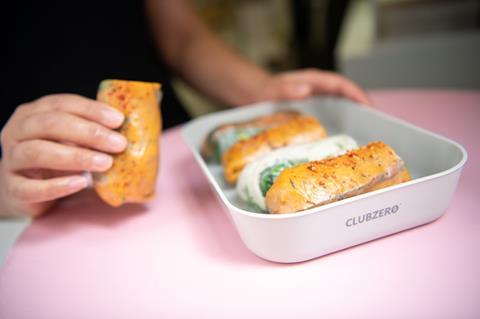 Will small-scale localised reuse schemes give consumers the confidence to switch to more sustainable solutions?
Packaging Europe recently shared the launch of reuse packaging platform Loop in Tesco supermarket stores, yet there are also schemes on a smaller more localised scale springing up and gaining traction. Pre-pandemic, reusable coffee cup schemes were accelerating as an example, however with hygiene risks unclear during a time of heightened need for consumer safety many of these were scrapped.
Will there still be a shift in thinking towards this new model for packaging in real terms? Perhaps if consumers become accustomed to the practice it will become second nature – we look forward to seeing the progress over the next few years.
CLUBZERO is one such example of a new localised scheme that goes beyond the standard coffee cup model. As part of its commitment to make London a zero waste city, CLUBZERO has teamed up with Just Eat, Kings Cross, ReLondon, Camden Council and First Mile to launch a reusable packaging service to give consumers a choice beyond disposable plastic packaging.
Designed to replace disposable plastic packaging through a return scheme, the launch will see over 10 restaurants and cafes in the King's Cross and surrounding areas provide the service with reusable takeaway cups and containers.
Customers will have a choice to opt in for reusable packaging when placing an order with a participating restaurant or café through the Just Eat platform or in-person using the CLUBZERO app. They can either arrange for the packaging to be collected through the CLUBZERO app from home or will be able to drop the items off at any CLUBZERO location.
The launch follows on from CLUBZERO's partnership with Nextgen consortium brands Starbucks, McDonald's, Coca-Cola in 2020.
This new partnership will explore how best the service will work for reusable cups and food boxes in the takeaway sector and will provide insights on how to roll this out more widely across London.
Safia Qureshi, founder and CEO of CLUBZERO, says, "We're shaping the future of takeaway food and beverage at CLUBZERO and have a big ambition to make London a zero-waste city. We're giving consumers the right to choose an alternative to single-use packaging. In the same way as we've seen choices for consumers beyond meat and beyond dairy, we're giving consumers the option beyond landfill packaging. The future is returnable packaging and we are thrilled to be starting with the best partners in the industry."
Robin Clark, senior director of global partnerships and sustainability at Just Eat Takeaway.com, says, "Building a more sustainable future for the food delivery industry is extremely important to us. We want to use our reach to support our network adopt more environmentally-friendly products and practices. We've already taken a number of positive steps to drive this change, from pioneering the use of seaweed sauce sachets and boxes to increasing the number of electric vehicles we use in food delivery.
"We're excited to expand our work in this space by launching a new partnership with CLUBZERO to test a reusable packaging service in the UK. This trial will help us assess how best to roll the service out more widely so that with the support of both customers and restaurant partners, we can continue to tackle plastic pollution across the sector."