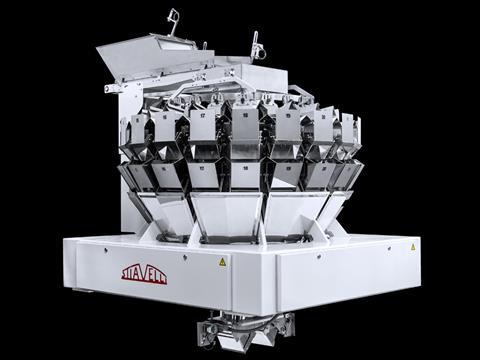 Stiavelli showcased its enriched range of highly reliable and durable equipment for the pasta industry including its new SVML/SDFQ packaging machine featuring the SPC20 weigher at Ipack-Ima 2018 last week. Thanks to its special mechanics, this high speed, continuous motion packaging machine can pack both brick and pillow bags. The machine is equipped with a bypass conveying system, located at the bottom of the machine body which allows for the alternate production of both types of packs. Likewise, the proven continuous horizontal packaging unit for long pasta, the SO-EVO with its double weight doser, is presented at the booth.
Historical Italian brand Stiavelli, founded in 1962, holds a leading position in the market today. The brand is part of the Pavan Group which was acquired by world-leading technology group GEA in November 2017. Stiavelli is one of the few players to offer both a weigher and a packaging machine. Customers appreciate the individual design of the packaging area, which is customised based on their own production line layout and capacity.
High speed packaging
The new SDFQ packaging system consists of a continuous/linear motion packaging machine (SVML) combined with a carousel (DFQ) equipped with fully motorised stations. This new combination allows for speeds of up to 100 ppm (versus 80 ppm with the previous version). The system can produce packages with double square bottom; double square bottom with four welds; square bottom; square bottom with four welds and alternatively pillow bags via a bypass device. Electronic management takes place via the unique Omron PAC and operator interface which is fitted with a 12" color touch-screen panel.
The SPC20 weigher is equipped with 20 hoppers and is completed with a central conveying system and double shutter in the discharge cone which minimises product breakdowns. The highest speed version includes a continuous motion packaging unit and is able to pack up to 130 bags per minute. Stiavelli multihead weighers deliver guaranteed high performance due to their remarkable accuracy and reliability.
Continuous horizontal packaging unit for long pasta, SO-EVO with double weight doser
Developed by Stiavelli in the 1960s and a pioneer in the industry of horizontal packaging machines, this unit has been continuously updated and has reached the apex of excellence in terms of package quality and speed of packaging. SO-EVO has been designed to pack up to 120 spaghetti bags per minute and its latest generation of stripping sealing jaws are able to minimize (to less than one percent) the fragments in the sealing area, thus improving the quality of the bag and of the sealing. This unit is entirely powered by brushless motors and is equipped with an automatic film junction in order to increase the productivity of the machine (i.e. no pauses required for film replacement).
Downstream from this machine, the Weight Control with Metal Detector CPSMD/400 will be installed and is what made it possible for Stiavelli to obtain MID approval for weight control accuracy, given its very high precision and repeatability standards.
Stiavelli machines are equipped with cutting-edge electronic systems and in-house developed software. Each machine can be monitored via a remote service.