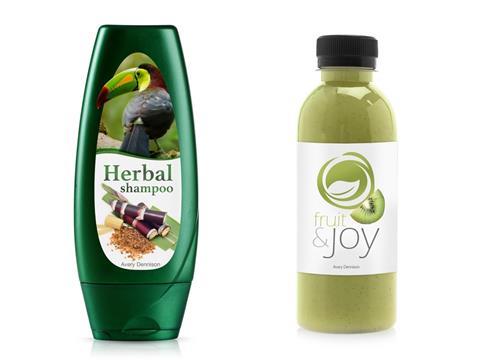 Is working across the industry a prerequisite for achieving the necessary progress?
Cross-industry collaboration is the only solution for this global industry-wide issue. Avery Dennison is working with parties across the entire value chain to help us reach our sustainability goals, as we believe that a sustainable way of working is the only way to guarantee a long-lasting, healthy future for our business. We try to support our customers wherever we can, whether it is with finding recycling partners, offering more sustainable solutions or even getting FSC® certifications.
What are the key concerns specifically in the labelling segment?
The larger issues in labelling are the matrix- and liner waste. A future innovation with biodegradable or compostable materials would be a huge step in the right direction. However, the product adjustments alone will not be enough. Avery Dennison has recently installed a wind-turbine at one of our facilities, other facilities run on solar-panels. Alternative sources of energy and consequently reducing CO2 emissions are easy steps for all members in the value chain. It is a matter of prioritising and willingness to invest in the future.
How do you view the plastic waste issue?
At Avery Dennison we try to minimise the use of plastics, we work with thinner liners (PET30. PET23, PET19) that can easily be recycled. For our filmic backings food contamination is not an issue. For the development of our adhesives we do need to take food contamination into account. Before we commercialise any adhesive for food labelling, pharmaceuticals, drinks or home and personal care labelling, we always obtain the necessary official testing certificates.
The trend we see coming our way is the ban on one-time use plastic bags. This is nowadays already in place in Italy and France, where we serve the industry accordingly. For instance, we offer Variable Information labels (the weigh scale labels for fruit and vegetables in your local supermarket) as a fully compostable label construction which then includes a compostable adhesive. Although these solutions exist, we do not see a large demand yet, but legislation and regulations can help the industry to prioritise these types of sustainable solutions for the entire value chain. We often see a shift in demand when new legislation is enacted.
Could you tell us about Avery Dennison's broader sustainability strategy?
Avery Dennison has set a very ambitious sustainability agenda with bold targets for 2025. We aim for the majority of our products to be sustainable, more than 70 per cent of our papers used will be FSCⓇ Certified (Europe has already long surpassed this target), 70 per cent of our films to be recycled and 30 per cent of films to be sourced with recycled content, all chemicals to be managed through a restricted substance policy, we aim to reduce GHG emissions with three per cent year-over-year. Operations aim to be 95 per cent landfill free on a global level (100 per cent in Europe is already achieved) and 75 per cent of the waste to be repurposed. We aim for 70 per cent waste reduction in the value chain when the products leave our facilities, we cultivate a diverse, engaged and safe workforce and we will be transparent in the reporting of our progress.
To support these goals on product level, we have created the Avery Dennison ClearIntentTM portfolio. The ClearIntent portfolio is sourced responsibly, from FSC certified papers and films from renewable sources; products are thinner, so less consumption of resources and many products incorporate recycled content or elements that make the packaging and products more recyclable. The portfolio is continuously growing and product ranges extended.
Avery Dennison is dedicated to reaching its Sustainability Goals set for 2025 and we hope to inspire the value chain to create a healthy and sustainable future for the packaging world that doesn't cost the earth.