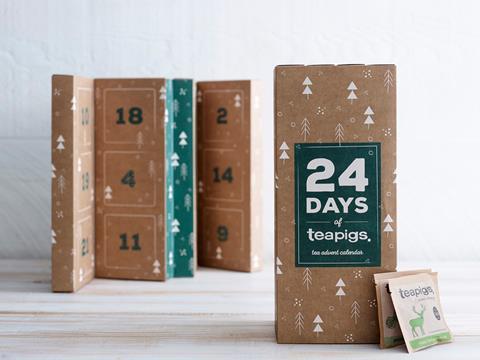 Pollard Boxes created a "unique" concertina design for the teapigs 2019 Advent calendar, packed with 24 different tea varieties.
As the individual tea bags are larger than the traditional Advent calendar chocolate treat, the brief to Pollards for the new calendar design was to reduce overall shelf space while still creating a strong impression on-shelf. The concertina design provides four sections with three tea bags incorporated on either side. The pack is then wrapped in an outer sleeve to provide plenty of space for graphics and the teapigs branding.
The main pack, sleeve and internal fitments are all manufactured in Cairn Natural Straw White paper, with the sleeve and pack then printed in four colours with matt sealer varnish. Special attention was apparently paid to the construction of the internal fitments to enable easy placement of the tea bags during the packing operation while ensuring they were held securely in place.
The pack is printed in the kraft finish of the teapigs brand with the addition of festive graphics. To ensure the overall design had sufficient shelf standout, a white kraft substrate was selected to enable accurate colour matching to the existing product range.
The pack has reportedly generated a positive consumer response on social media with one customer commenting that the pack was 'cute and fun, lightweight but strong.'
"We are delighted with the Advent Calendar which offers a mixture of quirkiness and originality that is exactly in keeping with the teapigs brand," comments Matt Charles, the company's Supply Chain Manager.
"Pollards' design and manufacturing skills have played a key role in the success of the pack, and the company's ability to provide a fulfilment service as well was an added bonus."
Starting from humble beginnings in mid-19th century Germany, Advent calendars are now big business – Tiffany's 2019 offering reportedly costs £104,000.