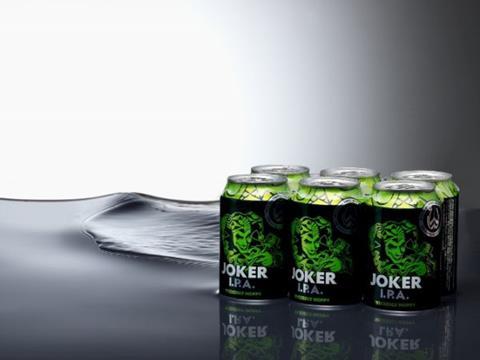 WaveGrip, the makers of an innovative can multipacking solution, will be reaching parts other can carriers can't reach through its global partnership with fellow innovators WeCan – providers of contract canning services for small to medium volume beverages producers. The partnership will take the canning line to the production facility.
WeCan is expanding its mobile canning service into Europe and by extension, offering craft beverage producers of all sizes the facility to can their products onsite without the burden of owning a full canning line of their own – and through their partnership with WaveGrip, are able to offer strong lightweight and fully recyclable multipacking for a fraction of the cost of existing solutions. It's a one-stop-shop for canning and multi-packing craft beverages with a difference.
Andy Hughes, Managing Director of WeCan said: "The alliance with WaveGrip means that we can offer the benefits of lightweight and affordable multi-packing to our craft customers. WaveGrip's innovation driven approach to the market means our two companies have a perfect synergy as we both extend canning solutions to the rapidly growing small and medium-sized drinks producers that are unsupported by traditional approaches".
Both companies place great emphasis upon the benefits of innovation to their customers. While WaveGrip's carriers are produced using lightweighting technology and advanced polymers which means their photodegradable and 100% recyclable product is more environmentally responsible than any other on the market, WeCan is rolling out a leasing option which will allow craft producers the opportunity to scale much quicker than through ownership of a full canning line. This commercially competitive option provides greater flexibility and support to producers through the supply of consumables and technical assistance.
Scalability is at the heart of the WaveGrip approach too – with three different applicators which make their carriers perfect for any size of canning job; from the hand applied G1 for short runs, via the compact, variable speed G2 which can handle up to 500 cans per minute, to the impressive G3, ready for the biggest producers to can more than 2000 per minute and achieve operational efficiencies of up to 30%.WeCan can also now offers smaller runs for specialists and company promotions – cans personalised to companies or organisations for events or marketing purposes open a whole new market to beverage producers across the continent. "We are now able to support the micro-breweries even more and encourage entrepreneurial businesses to compete with the big boys", added Andy Hughes.
Aaron McIvor, WaveGrip's Managing Director said: "As well as meeting the needs of the biggest beverage companies in the world, WaveGrip is committed to the craft market and both delighted and excited by the partnership with our fellow innovators at WeCan. There's never been a better time to start or grow a craft brand, and through canning and multipacking, producers are able to deliver their product at its absolute best to its consumers wherever they are".
More info: