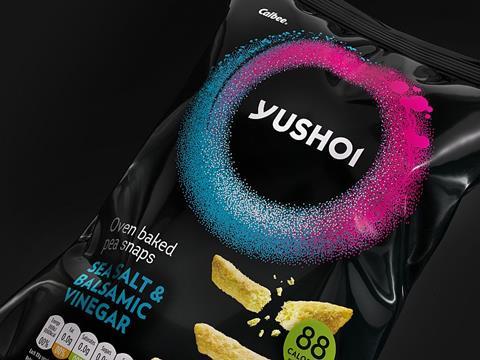 Yushoi, the Japanese-inspired brand of 'better for you' oven baked pea snacks, has been given a new brand and packaging design by Elmwood.
Elmwood was briefed to update the brand and how it is expressed on packaging. It follows a branding exercise which saw Yushoi adopting a new positioning: 'multi-dimensional, high-intensity food that's better for you'.
The Elmwood team set out to find a way of visualising the texture and flavour of each product in the Yushoi Pea Snaps range in a way that would make the brand stand out and provide a powerful platform for new products.
At the heart of the design is a ring of texture and flavour set against a rich black background for consistent brand blocking and to ensure stand out in a chaotic supermarket environment. Each variety has its own illustration relevant to the sensation of that flavour – but not a literal interpretation of the flavour itself.
The illustrations, created in house by Elmwood, were devised by asking questions such as: what does sour look like? What's the shape of umami? What texture does spicy have? The photography is by Angus McDonald
Yushoi is owned by Japanese snack manufacturer Calbee. It launched in the UK in 2015 and is now selling more than £6m annually. Yushoi is part of the 'better for you' savoury snacks category and is aimed at consumers defined as 'health-inclined and experience-seeking'.
Jon Wood, Commercial Director at Calbee, said: "From the very first meeting, Elmwood proved to be determined to understand the challenges we faced and totally committed to delivering the most creative solution for us. The outcome exceeded all expectations."
Alex Halfpenny, Design Director at Elmwood, said: "From start to finish, the job was an absolute feast for the senses, with a fantastic client, who was not only genuinely passionate about their product and brand, but were open to new and brave ideas and thinking. This empowered the team to make some truly bold design decisions and as a result have managed to transform the presence on shelf, while retaining the spirit of Yushoi. It's easily one of the favourite projects I've ever worked on, and everyone involved should be proud of the results."