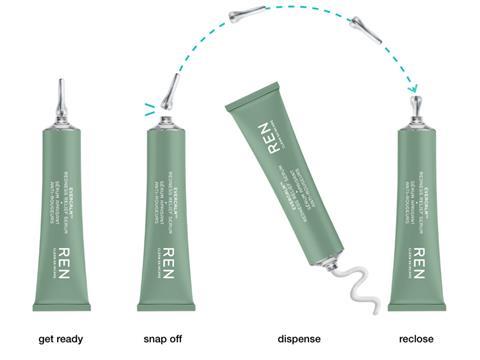 Unilever's REN Clean Skincare brand and its packaging partner Tubex have created an innovative recyclable sample pack made entirely from 100% recycled aluminium – including the nozzle.
The sample pack is being described as a world-first in the luxury beauty industry. Every part is made from 100% recycled aluminium, even the nozzle, which avoids the use of tamper seals or mini plastic caps.
Beyond sustainability benefits, the companies say that aluminium is very effective in protecting the product in the pack from light degradation and any potential oxidation.
Its malleability also makes it easy to squeeze out almost every drop of product from the pack, minimising leftover waste and maximising access to the small amount inside.
In the context of Unilever's wider sustainability pledges, REN has made a 'Zero Waste pledge' in the hopes of ensuring that all of its packaging can be recycled, have recycled materials or be reused by the end of 2021.
Earlier this year, it also formed a global alliance called #WeAreAllies with Biossance, Caudalie, Herbivore and YOUTH TO THE PEOPLE. This saw each member pledge to introduce "planet-friendly" packaging by the end of 2025.
"There is no silver bullet with recycling, so we have implemented various solutions to meet our Zero Waste pledge," REN's CEO, Arnaud Meysselle, says. "While more costly, we are committed to using these new tubes to reduce plastic waste and hope to encourage other beauty brands to rethink their sample packaging with the planet in mind."