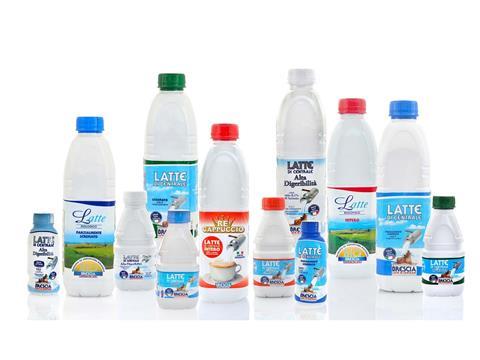 Sensitive product safety enhanced by PET barrier bottles
Fundamental to ensuring the success of packaging the fresh and UHT milk in PET bottles are product safety and integrity, with no quality issues caused by microorganism growth or alterations caused by light, oxygen and temperature. "PET packaging solutions really offer dairy products the possibility to retain their fresh taste, vitamin content, texture and colour from production to storage, including shipment and distribution. The opaque barrier PET we use, combined with the dry preform decontamination process, offers great product safety. We do not need to use any aluminium lid as the tightness between injected bottle neck and cap is very reliable, and the consumers really appreciate this," comments Guillaume Rolland, Sensitive Products Category Director at Sidel.
Compact footprint with production doubled
The small floor space was a particular challenge in the project. The plant of Centrale del Latte di Brescia, a historic building with a city centre location, offered minimal opportunities to enlarge the production hall to accommodate a new production line. "An old building was destroyed and replaced by a new one with two levels: the basement for the raw material storage and the ground floor for the offices and aseptic production areas," explains Bonometti. An industrial configuration similar to that of the first aseptic line based on a standalone equipment approach could not fit within the limited available floor space. Consequently, the company had to implement a much more compact configuration, which justified the decision to turn to an integrated blow-fill-cap solution, a point recognised by Bonometti - "The low-output aseptic Sidel Combi Predis specifically accommodates the need for an ultra-reduced footprint, making it ideally suited to the space constraints we faced in our plant. It is also perfectly sized for our production needs of up to 16,000 bottles per hour, allowing us to double our production volume of UHT milk."
Flexible and efficient production
The new line is used for a range of different milks, which includes a multitude of references under Centrale del Latte di Brescia's own brand, along with those produced for private labels, in 330ml, 500ml and 1litre sizes. In terms of the major references, by applying the same design, regardless of the brand and bottle format, almost no changeover is required: just the product itself and the labels. "Simple and fast changeovers, with limited manual intervention, are possible, along with reduced downtime for liquid changeovers, with only 3 hours required for cleaning and sterilisation. The Sidel Rollquattro labeller offers great flexibility to change our wraparound labels, key in our bottle customisation," comments Bonometti. The line is also equipped with Sidel conveyors and a very compact accumulation table to fit with the reduced footprint available. "We are satisfied with the overall performance and reliability of the bottling line, reaching an efficiency greater than 95%, with an average of 92%."
An important step forward
The choice of the aseptic Combi Predis was an important step forward in terms of food safety and sustainable production, as well as cost-savings, with Sidel dry preform decontamination technology using no water and only minimal amounts of chemicals. The blower oven activates the sterilising effect of the hydrogen peroxide vapour, without the need for additional heating of the preforms. The same technology is employed for cap decontamination with Sidel's Capdis™. "This process is really simple and ensures a high level of decontamination, with the content of the filled bottle protected from microorganisms," said Rolland. By integrating preform decontamination, blowing and filling functions with cap decontamination in a single enclosure, the Sidel Combi Predis ensures an aseptically filled and capped PET bottle, without consuming water. "We are really satisfied with the solution benefits in terms of food safety, top production quality and reliability, cost-effective and environmentally friendly production. Compared with PET lines equipped with a stand-alone blower and aseptic filler with wet bottle decontamination, it is also easier to operate and maintain," comments Bonometti. The result is reliable, simple aseptic beverage production in PET bottles, while continuously monitoring critical parameters to bring the risk of contamination to zero.
The whole project was based on a strong collaboration between Centrale del Latte di Brescia and Sidel. "We benefit from the proximity of the Sidel Parma plant, located some 120 kms from our plant," concludes Bonometti. Today, the plant welcomes many beverage and dairy players who want to see an aseptic Combi Predis operating in what is recognised as a reference among LDP production sites in Europe.
More info: