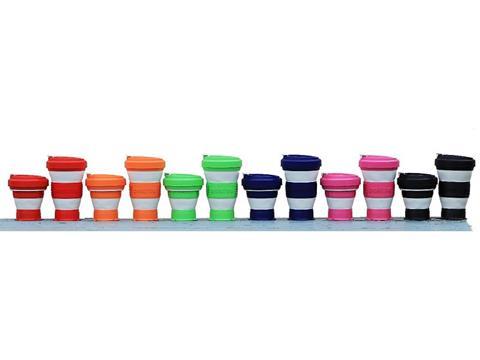 pokito is a robust, British designed and manufactured reusable cup that can be collapsed before and after use and slipped into your pocket, handbag or briefcase. The cup from Tri-Star Packaging twins flexibility with portability for busy consumers in their high-street coffee shop on their way to work or an evening gym session.
pokito offers versatility: the cup weighs only 110g, stands at 15cm when fully open and holds a 'grande' 475ml. This is just one of four sizes for this small, smart, reusable cup: users can collapse the pokito half way to a 'medio' 350ml or to 230ml for an after-lunch espresso. When closed, it squashes down to 4.5cm, ready for sliding into a pocket or bag.
A water-tight screw-top lid with spill-proof clip seals in liquid to ensure no dripping when sipping and no leakage in the hand or bag, even on bumpy rides to work. The FDA-approved food grade materials with splayed base ensures the pokito is super safe and won't topple over, can be washed easily by hand or in the dishwasher, and is both taste-free and odourless, so it won't affect the flavour/
pokito scooped a Gold Award, at the Innovation Challenge Awards, lunch! 2018. Tri-Star Packaging, Managing Director, Kevin Curran said: "pokito is so practical because of its portability and water-tight durability: not only is the ergonomic cup comfortable to hold, it is compact and lightweight, robust and totally leak-proof, allowing consumers to drink on-the-go without spilling a drop and then pack it in their rucksack or shopping bag without fear."
pokito cups are also highly sustainable and kind on the planet. Produced in ISO 9001-certified British factories, the material's super durability means the cup's footprint becomes environmentally-sustainable after 15 uses. But it has been tested to last for 1,500+ uses. Also, as you can use your pokito again and again and again, it means fewer single-use disposable paper cups end up in landfill.