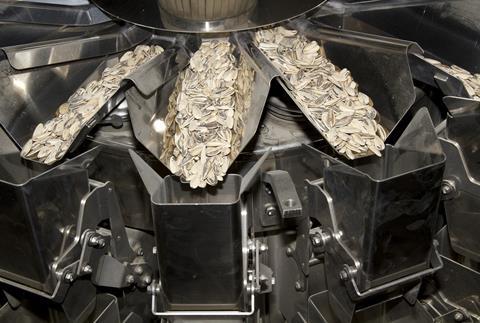 The installation of four Ishida Atlas integrated multihead weigher and bagmaker combinations at leading Spanish snacks manufacturer Facundo Blanco has delivered an increase in output per line of around 30%.
Established in 1944, Facundo Blanco produces a range of snacks including, nuts, seeds, mixes, extruded products and crisps. The sunflower seeds which helped build the company's reputation are still one of its most important products.
Ishida was the first company to fully integrate the design of bagmakers and multihead weighers, with the aim of optimising the interface between the two key machines involved in modern snack food packing. Aimed at the crisps and extruded snacks segment, this technology also proved ideal for sunflowers, leading to Facundo Blanco becoming the first company in Spain to install the system. Since then, three more have been added, reflecting the lasting nature of their advanced performance.
Speed was a major factor in the original decision
"Prior to the integrated Ishida systems we used a variety of packing methods, including volumetric." says Technical Director Manuel Arroyo Luján of Facundo Blanco.
"We wished to increase our output and we had already automated the product feed and the offtake of bags as far as we could. Integrated packing systems seemed the next logical step. We estimate that the increase in output per line has been of the order of 30%.
"The Ishida combination will pack up to 90 bags per minute," he continues. "This remains unsurpassed for sunflower seed packing, which is a relatively dusty process. Of course it may never be possible to attain the 140 to 150 bags per minutes we have seen demonstrated by Ishida for man-made snacks."
This dust, typical of any product that has been harvested from nature, also contains salt from the purification process. Despite this potentially corrosive mixture, the Ishida machinery maintains accurate weighing, precise film control, timely stripping of product away from the seal zone, sealing and similar complex functions, all at high speed and over long periods. This dependable performance at a high level of speed and accuracy is of great importance to Facundo Blanco's management. According to Manuel Arroyo Luján, "The reliability of these machines also brings peace of mind to the operators."
The four Atlas lines are packing target weights of between 40g and 250g, the larger bags being for food service use, in addition to an Ishida Astro unit handling block bottom bags.
"Ishida's distributor in Spain, CIMA, has been an important factor in our decisions." says Manuel Arroyo. "We've dealt with them for many years and have confidence in their advice."
More info: