Announcing the finalists of the Sustainability Awards 2018! The seventeen independent judges for the leading competition for innovation in sustainable packaging have graded all the submissions over the summer – and this week Packaging Europe is revealing the top four entries in each category. The six category winners and overall Sustainability Awards 2018 winner will be unveiled at Scanpack on 23 October.
Here (in alphabetical order) are the four finalists in the 'Driving the Circular Economy' category, which was conceived to celebrate breakthroughs and innovations in recycling or reusable packaging systems; initiatives promoting increase in recycling rates or nurturing demand for recyclate:
Finalist A:
2500C Recycled Plastic Temperature Controlled Container - submitted by SkyCell AG
Overview
SkyCell is a Swiss-based provider of temperature-controlled airfreight container solutions with a special focus on serving global pharma companies and sustainability. It is driven by its mission to supply the safest pharma containers worldwide. This is achieved through a combination of hardware, software and services, which enables SkyCell to master logistical challenges and eliminate temperature excursion.
In mid-2017, SkyCell launched a new model of its temperature-controlled containers, called 2500C. It is the largest container for temperature-controlled transport with passive systems, which makes it much lighter than its competitors. More than 50 man-years of R&D were poured into creating an unprecedented, highly efficient insulation solution. This cutting-edge technology reflects the maximum radiation while minimising heat conduction. It is the most patent-protected insulation technology on the market and made of recycled plastic.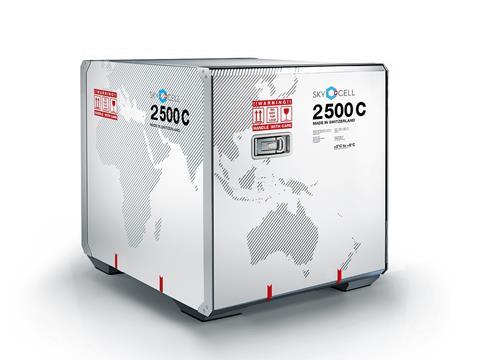 Impact
By successfully launching this product it is proved that the use of post-consumer recycled polyolefins can be a technically and financially viable option in mass products and consequently the use of virgin resin can be drastically reduced.
Want to be the first to know the winners of the Sustainability Awards 2018? You're welcome to join us at the Awards ceremony and the Sustainable Packaging Summit at Scanpack in Gothenburg on 23 October 2018. Contact Packaging Europe by email or Twitter for details.