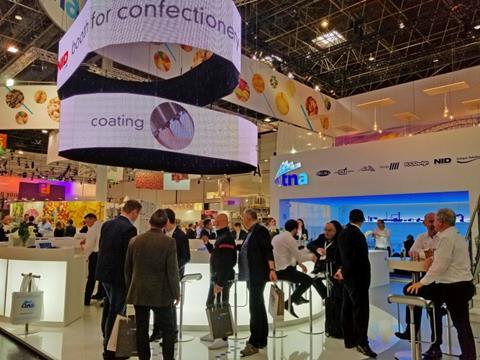 tna will present its ground-breaking, ultra-high speed case packer for flexible bags - the tna ropac® 5 - at this year's Pack Expo in Las Vegas.
The new tna ropac 5 will be one of the many highlights amongst the wide range of innovative packaging and processing solutions tna will bring to Las Vegas, making 2017 tna's biggest Pack Expo ever. With equipment ranging from cookers, roasters and fryers, confectionery moguls, conveyors, seasoning and coating systems, cooling and freezing technology, baggers and scales, metal detectors, inserters and labelers, controls systems and case packers – tna delivers one of the most comprehensive ranges of integrated food processing and packaging technology from a single source.
World's fastest case packer Part of tna's performance 5.0, a revolutionary new approach to high-speed production line performance, the tna ropac 5 is capable of up to 300 bags per minute, making it the world's fastest case packer for flexible bags. In combination with the company's flagship tna robag® high-speed VFFS packaging system, the new tna ropac 5 offers food manufacturers unprecedented levels of throughput, exceptional equipment reliability and one of the smallest machine footprints. Visitors will be able to get a first-hand experience of the extraordinary speeds of these two packaging systems and find out how they can take their production line performance to the next level.
"Our case packer was a huge success at interpack earlier this year and we can't wait to demonstrate to US manufacturers just how much of a game changer the system will be in terms of performance, reliability and design ingenuity," comments Michael Green, group general manager at tna. "Smaller pack sizes remain a key driver in the US packaged foods market and food manufacturers need equipment that can really help them step up production speeds. Our new case packer has the potential to double food manufacturer's throughput overnight, completely redefining current industry standards."
Integrated turnkey solutions from a single sourceIn addition to showcasing its world-class packaging credentials, tna will also display some of its most advanced distribution, inserting and labeling, cooling and seasoning technology. As part of this, tna will demonstrate how the patented "switcheroo" bi-directional functionality of its tna roflo® range of horizontal and vibratory conveyors delivers the ultimate in flexibility by enabling manufacturers to use a single lane where other technologies require two rows of conveyors. Further innovations include the tna intelli-flav® OMS 5 seasoning system, which can provide both powder flavoring and liquid oil in a single drum and a brand new oil spray system, which is due to be unveiled for the first time at the show.
Green adds: "Our growth over the last 35 years has been exponential and we now offer one of the most dynamic and forward-thinking portfolios on the market. When combined with our full project management support and after-market services, this means that manufacturers are now able to improve the efficiencies of their entire line with equipment from a single supplier - from pre-processing equipment at the start of the line all the way to case packing solutions for the end of the line." Confectionery solutions at booth 7219At booth 7219 in the confectionery pavilion, tna will present the latest cutting-edge solutions for the confectionery industry together with the newest member of its family of brands NID. Besides on-stand demonstrations of the innovative tna intelli-flav OMS 5 system for gummy polishing and the high-speed tna robag FX 3ci packaging system, visitors to booth 7219 will be able to speak to NID's confectionery specialists about the NID M3000, the company's flagship starch mogul. "We're very excited to return to Las Vegas this year together with NID to showcase the unique benefits of our complete range of processing and packaging solutions," comments Mark Lozano, group sales manager – confectionery, tna. "US consumers are highly adventurous and never hesitate to try new products. This unique attitude to new ideas and experiences makes Pack Expo the perfect place to show confectionery manufacturers how our combined range of turnkey confectionery solutions has the potential to revolutionize their current manufacturing processes."
More info: