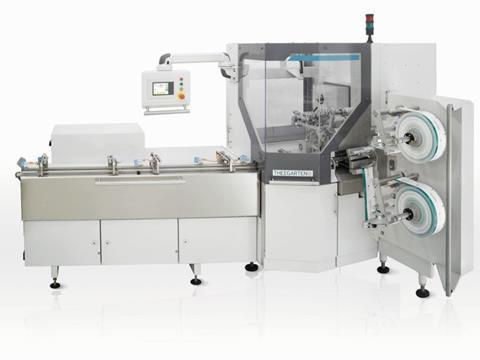 Theegarten-Pactec will use IPACK-IMA 2018 in Milan (May 29 to June 1st) to present its compact and flexible CWM2 wrapping machine for chocolate products at the Opessi S.r.l. stand (Hall 3, Stand A39 D20). The modular design of the CWM2 enables users to process different products and folding types on one machine while offering fast changeover times.
Five different wrapping types on one machineWith the CWM2, Theegarten-Pactec presents a modular packaging machine for chocolate products characterized by fast changeover of the folding type and the dimensions of the product to be packaged. The CWM2 is a highly flexible packaging machine that excels with small-sized chocolate products in the performance range of up to 500 packaged chocolate articles per minute. With double twist, top twist, side twist, bunch and envelope fold with or without banderole, it offers five different types of wrapping.The machine displayed at the trade show has been pre-sold to a customer from Italy and is slated to be installed immediately following the industry get-together. The customer is particularly impressed with the ease of accessibility for cleaning and maintenance – hoods can be opened wide, units swivel, and waste containers are easy to reach.
The decision to make the investment was also based on the machine's simple operation. The CWM2 is equipped with a new, easy-to-manage machine control system and an attractive user interface. Sensors enable the CWM2's operating data to be processed, which means that the user has easy access to current machine states at all times. This includes support for maintenance and cleaning processes as well as active indication of service and maintenance intervals by the machine. In addition, the touchscreen significantly simplifies error diagnosis. Functions such as "No product - no packaging", automatic changing of wrapping material reels, and remote diagnostics, are as easy to implement as the automatic ejection of double-wrapped products following a change in packaging material.
Fast format change increases efficiencyAnother advantage of the CWM2 is the easy conversion between product format and/or folding type. The changeover between 'envelope fold' and 'double-twist wrapping' packaging types with unchanged product takes approximately 40 minutes. When switching a product, the changeover between envelope fold and double-twist wrapping takes 60 minutes. The CWM2 can process all commercially available foils. Continuous wrapping material infeed with servo technology enables packaging materials to be cut at different lengths for inner and outer wrappers.
More info: