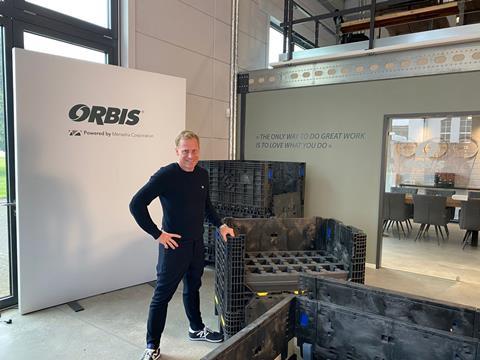 We talk sustainability, plastics and cost savings with supply chain specialist ORBIS in the latest edition of our Rapid Interview feature.
---
Your elevator pitch: introduce and sell us your company in no more than 280 characters.
For the past 25 years, ORBIS has been a packaging company with the highest focus on sustainability and the widest product range to support it. Our global teams support local project managers to provide customised transport packaging solutions based on standard products to customers in different industries.
Where are your company's locations? Are there any specific challenges or advantages relating to your geographical location that you could tell us about?
ORBIS has a wide spread of plants and offices in the US, Canada, and Latin America and, since 2016, has been building the landscape for its European business, headquartered near Cologne, Germany. ORBIS supports customers from different industries around Europe.
Tell us a surprising fact about the market you work in.
Despite increasing sustainability efforts, many companies still use high volumes of one-way cardboard packaging. The enormous amounts of waste will end up in landfills, and even fibre corrugated recycling uses 1.075 billion litres of water per year in the US only.
At Packaging Europe we like to watch trends and areas of innovation as they evolve. Can you tell us something we might not be aware of that is driving technology in your sphere?
Customised dangerous goods packaging has a highly strategic focus for ORBIS Europe, not only in the automotive industry. Added to that, ORBIS will launch a unique high-tech innovation to replace cardboard boxes in FMCG markets in November 2021.
What would you say is the biggest common misconception that you encounter in your business?
The image of plastic packaging is negatively impacted by discussions around the ban on one-way plastic products. However, with a closed product life cycle, ORBIS shows that reusable plastic packaging can be even more eco-friendly and sustainable than common alternatives.
If the wider packaging industry could be transformed in some way, what kind of change would you like to see?
Our goal would be to replace the enormous amounts of non-sustainable one-way packaging and to encourage supply chain decision-makers to replace traditional solutions.
…and how do you envisage your company changing the industry in the coming years?
Our company is built on the principles of Engaging Culture, Delighting Customers and Business Excellence. We do that by continuing to develop innovative, durable and sustainable products that make supply chains greener.
Is there anything else you'd like to tell us about?
ORBIS will be launching a sustainable and efficient plastic alternative to corrugated/one-way packaging in November 2021 at Sustainability in Packaging Europe & Deutscher Logistik-Kongress.
The boxes have identical features as cardboard boxes and are compatible with existing automated and manual processes. The reusability (70+) and recyclability bring significant added value to customers' supply chains:
•Long-term cost-savings
•Significant source reduction
•Improvements