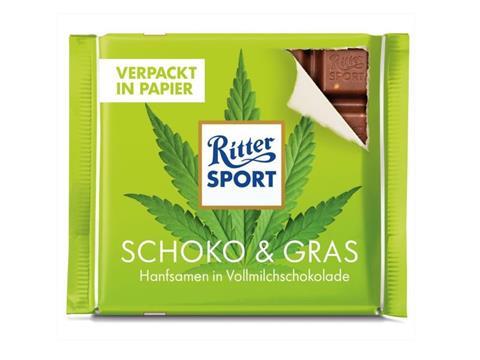 In early 2020, Ritter Sport trialled a paper wrapper for its chocolate on a small scale. Based on learnings from the trial, the company entered a collaboration with Austrian retailer Billa to release a limited edition paper wrapper for its Schoko and Gras chocolate. Elisabeth Skoda speaks with Katja Binder, Head of Packaging Development at Ritter Sport to find out more about the challenges involved with the project, and to find out what the next steps are on the company's paper packaging journey.
- Could you tell me a bit more on the paper prototype from earlier this year? What challenges had to be overcome to make it a reality?
Ritter Sport's internal sustainability strategy for packaging and packaging materials focuses on two aspects in particular – renewable materials and "fit for recycling". We launched the first prototype of our paper chocolate packaging at the beginning of the year (2020), in January, but work on it already started at least 12 months earlier, working closely with paper manufacturers and converters to create the first prototype. We weren't able to produce the packaging at an industrial scale yet, so there was a lot of manual work involved in the packaging process, and even the logistics process was manual, with the chocolate posted by hand. We invited our customers to get in touch and give us feedback. Demand was greater than expected – when we asked our customers, we received 25.000 requests for this prototype. But we had produced only 500 prototypes.
- How would you summarise the insights you gained from the trial earlier this year?
Firstly we learned that our customers love the idea of paper packaging – we got a lot of positive reactions. We were not sure if our iconic Knickpack, a special snap pack mechanism that enables to open the chocolate bar by breaking it in half, was still important to customers – and it was. We learned that the pack needed improvement, as the prototype material tore quite easily when opening. Therefore, on our next scaling up step, which was the Schoko and Gras collaboration with Billa in Austria we increased the grammage on the new prototype packaging material - an increase from 75 to 90 grams per square meter, offering more strength to the pack during the packaging process, but also more protection at home. We also worked on the sealing pattern to make the pack easier to open. In total, we packaged 35.000 chocolate bars on an industrial line and delivered them with our trade logistics partners in Austria. During the entire scaling up process and during the trial, the dialogue with the consumer has been key .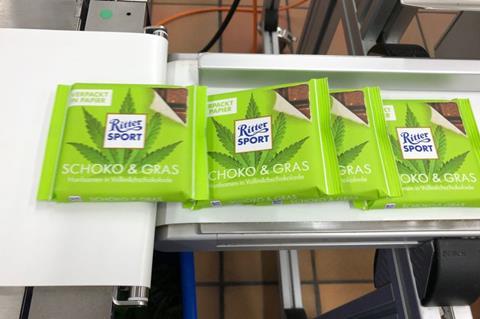 - How do you ensure both barrier functionality and recyclability?
This is indeed a challenge we are facing. We are using a special functional barrier paper. When we started the development process two years ago, there was no functional barrier paper available, but development has moved fast since then. The paper we used is coated with a water-based barrier material that is fit for recycling in the paper recycling stream. Of course, it would have been easy to use lamination instead, as this makes product protection easier. But even a thin layer of laminate makes recycling difficult, which is a key feature for us to give the material a second life. We are already using a lot of recycled paper materials for our displays, trade units etc. What we have now is not perfect yet, but this is a step-by-step process and a development journey. In 2021 we will launch a paper-based pouch, and we will integrate the learnings from that into the development process. We do not know if and how and when we will have 100% of paper-based packaging for 100% of our products, but it is a development journey.
- Does the paper packaging affect shelf life?
This is something we are still in the process of finding out. Our 35.000 chocolate bars will be available at the retailer for a limited amount of time. We performed shelf life tests for this particular product and approved it for a shelf life of six months. But we do not know for our other products yet. Some products are easier than others. Whole milk chocolate should not pose any major problems, for example, but what happens with the aroma in our rum raisin chocolate, also due to the humidity it contains? Sharp edges, as we have in our cornflakes and nut chocolates could also pose challenges. Here, we have to perform more tests.
- Are the pack design possibilities similar to standard packaging?
Yes and no. We opted for a natural look and decided against glossy coated paper that has similar printability to polypropylene film. A particular challenge there was the print quality. Making the EAN code and ingredients list readable has been challenging, and there are some missing dots. There are differences between plastic and paper, and we are still working with our supplier to understand this better. But opening the chocolate packaging is a multisensory experience. The consumer has to see that it is paper when the product is on the shelf, and feel it and hear it when opening the pack. So, our aim is to make the printability as good as possible without losing the "natural" experience.
- Do you have any life cycle analysis data available yet comparing the paper packaging and the standard Ritter Sport packaging?
For us it is not so important to have answers as soon as possible, but to have the right answer. It's about more than an LCA, it's about the ecological footprint, CO2, water, energy consumption, energy sources, and what happens after consumption. We want to understand all pieces of the jigsaw and adapt it piece by piece. I would like to underline that I don't want to engage in plastic bashing. Even though we have been talking a lot about paper, our plastic packaging material does a great job too - it is recyclable, albeit more in theory than in practice, and weighs just 1.5 grams. Our overall intention is to look at the future and to solve issues, one of which is recyclability, which is not always given especially for flexible packaging. In Germany, we have a good collection and recycling infrastructure for plastic, but internationally, there are better better collection and recycling systems in place for paper than there are for plastics, so we believe in paper and also want to understand plastic better. Packaging is an integral part of the overall Ritter sustainability strategy. We often talk about raw materials such as cocoa in a sustainability context, but consumer see the packaging just as much as they see the chocolate, so it is just as important as the ingredients are.