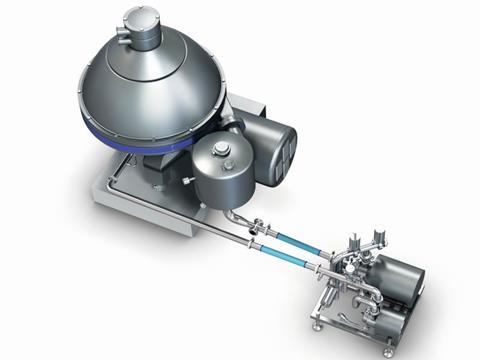 Tetra Pak has reduced the energy use of its separators by 40%, by incorporating a breakthrough pressure management technology, EncaptTM, into the systems' design.
The Encapt technology lowers the atmospheric pressure around the spinning bowl using a low-pressure pump, and the system is supervised by sensors that keep air friction minimal. Less friction means less energy required.
Combined with a unique AirTight design inside the bowl, where the whole system is hermetically sealed to ensure no air enters. With the inlet at the bottom, and the outlet at the top it saves the centre for outlet flow, and so requires less energy. These two technologies together make the machines the most efficient on the market.
Tetra Pak Product Manager, Ulrika Rehn said, "We want to help customers meet the challenge of achieving superior product quality with lower operational costs, and a lower environmental footprint. Most commonly used to separate milk or whey – the Tetra Pak Separators with Encapt technology, when paired with AirTight technology, offer incomparable energy savings.
"Designed with built-in operational flexibility for different speeds and flow rates, customers can use the same line for different products, and achieve higher energy efficiencies than any other model available. In fact, they can save around 4Million kWh during the machines lifespan."
Speaking at the time of the announcement, Holger Lüers, General Manager at Müritz Milch GmbH, within DMK group, Germany said, "This is a sophisticated combination that really works. The AirTight technology ensures energy efficient separation and a flexible flow rate to the line during a production run. Plus, the additional energy savings brought by the low-pressure technology is a real bonus."
More info: