Increasing urbanization, smaller household sizes and an ageing population are fundamentally changing the expectations for food and pharmaceutical packaging. At the same time, there is a growing need for more sustainable packaging solutions and processes. But according to Carsten Weiss, Vice President Engineering at Bosch Packaging Technology, no single company can rise to this challenge alone.
In the majority of industrialized nations, the "Supersize Me" mentality is now a thing of the past. Given the demographic change and more responsible consumer behavior, the current trend is toward smaller portions. This can also be seen in the growing demand for convenience and on-the-go products. In many growth markets, small portions are also the number one choice due to consumers' limited financial resources. As a result, packaging sizes are becoming smaller, yet the number of individual packages is constantly on the rise. In parallel, more and more effort is being put into the development of sustainable packaging and environmentally friendlier manufacturing processes.
In the future, there will be a greater focus on fulfilling the requirements of the circular economy. There is a greater demand for packages that are "designed for recycling", for example by using easily separable materials, mono-material packaging, and renewable materials. All parties involved in the production and supply chain have to work together to devise more sustainable solutions. The outcomes of key initiatives like Save Food, CEFLEX and European Bioplastics can offer valuable insights into future needs.
On the lookout for new packaging concepts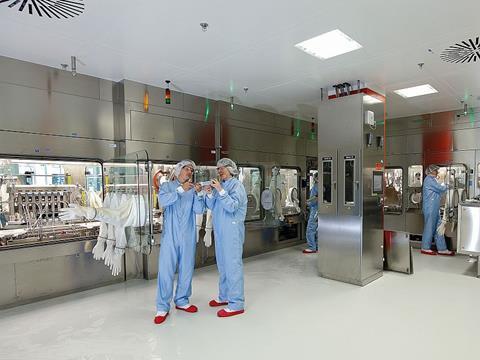 Some of the most important trends on the packaging market include the further development of conventional materials, research into new combinations of materials, and the introduction of more efficient processes. In this regard, various parties are already working hand in hand to find new solutions that reflect the spirit of sustainability. When it comes to achieving these goals, expertise from disparate, not directly related fields can be vital. For example, the automotive industry has been investing heavily in optimizing materials and processes for the past several years. With regard to products with extremely high barrier requirements, like battery cells, the spotlight is on optimizing flexible packaging materials. Lessons learned from these efforts can – provided they are available – be directly applied to the development of new packaging solutions and production concepts for food and pharmaceuticals.
Many research activities focus on the development of bio-based or biodegradable plastics that satisfy the requirements for food packaging. Bio-based plastics often offer a better CO2 balance than conventional plastics. Biodegradable plastics are particularly advantageous if they can easily be broken down by microorganisms. Compostable materials are an especially good choice for food packaging where the product and its packaging often enter the waste disposal cycle together – as is the case with coffee capsules or teabags.
Nonetheless, biodegradable plastics do not represent a cure-all for the pollution of our environment and oceans: as they break down, carbon dioxide, water and methane are released. Methane has a much more higher effect on global warming than CO2, which is why it is burned to CO2 and H2O at managed waste disposal plants. Biodegradable plastics that are additionally bio-based offer a much better CO2 balance, while those that are based on renewable raw materials can produce other negative environmental impacts, including eutrophication, increased soil acidity, and air pollutants. Generally speaking, rapidly degradable plastics are particularly advantageous for the environment when they are "marine degradable," that is when they break down in seawater. Needless to say, it should still be our goal to reduce the amount of marine litter to a minimum; in this context, good recycling solutions and smoothly running disposal systems are elementary.
First concepts already put into practice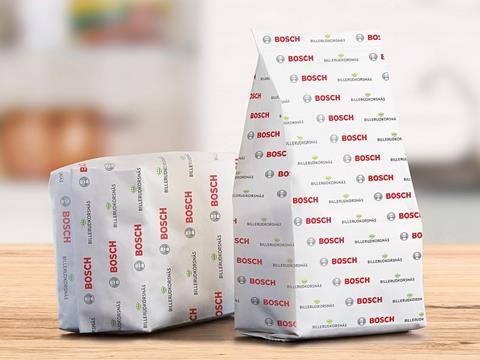 Companies are also working intensively on new concepts in the area of fiber-based packages, so as to satisfy the circular economy's criteria for recyclability and the use of renewable materials without compromising product protection. For example, the first sealed paper packaging consists of mono-material paper instead of polymer film, making it completely recyclable. It is suitable for dry food like sugar, pasta, cereal or powder. With the new solution, food products can now also be packaged and sealed with vertical form fill seal (VFFS) machines, which translates into higher flexibility concerning the choice of format and packing style. Moreover, VFFS sealing delivers improved product protection and dust tightness. Thanks to the use of FSC- or PEFC-certified paper, this approach is truly sustainable – from the raw material to recycling – and offers a viable alternative to plastic for products with low barrier requirements.
Although the pharmaceutical industry faces more complex challenges given the high barrier requirements for its products, some secondary packaging concepts are already available that may prove to be visionary. When it comes to fragile products like syringes, vials and ampoules, as well as applicators such as insulin pens, conventionally a mix of materials has been used to ensure their safety. However, a new, tray folding carton made entirely of cardboard and featuring variable inlays could offer an alternative solution. Thanks to the use of a single packaging material, there is no more need for plastic trays. Consequently, there is also no need to separate different classes of materials during recycling, which translates into better sorting and more efficient recycling outcomes.
Energy recovery during ongoing processes
Conserving resources is another key aspect of sustainability in the processing and packaging industry. In the energy-intensive pharmaceutical industry, for example, innovative energy recovery concepts are yielding significant savings. In the sterilization process, heating and cooling energy are recovered, which can mean up to 40 percent lower heating costs and 60 percent lower cooling costs. When it comes to ultra pure steam generation and distillation, the latest-generation systems use a preheater to reduce hot steam consumption by roughly 30 percent. In cleanroom production, up to 65 percent lower energy costs in connection with hot and cold water, steam and electricity can be achieved with the help of cutting-edge isolator technology depending on the air supply system used.
Keeping an eye on resource consumption with industry 4.0
The latest software solutions in the area of digitization show how manufacturers can conserve resources with their existing machines and lines. Thanks to the progressive connectivity of production, we now enjoy access to more and more data, which can also be used for consumption analysis: sensors provide data, for instance on energy and compressed-air consumption, allowing us to analyze these parameters over a given timeframe. These often very different types of data can be bundled and analyzed on a single platform, and displayed in real-time on the Human Machine Interface (HMI) of a given machine or line. In this way, fluctuations, peak loads and irregularities can be identified – and effectively remedied.
Trinity of design, material and machine
Several different aspects are important in the context of selecting suitable packages and processes: in addition to cost efficiency, more attention is being paid to barrier properties, processability, mechanical requirements, quality, and compliance with regulations. In this regard, sustainability will become more and more important in the future. When it comes to developing new packaging concepts and systems, factors like recycling, energy and resource efficiency have already become an integral part of performance specifications. Leading processing and packaging machinery providers are already working closely together with their customers in various pilot projects to develop comprehensive solutions based on a trinity of design, material and machine.