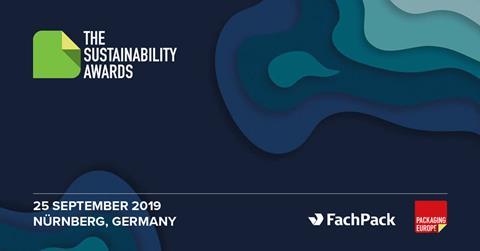 Packaging Europe is delighted to announce its partnership with FachPack 2019 to host the fifth annual Sustainability Awards in Nürnberg, Germany on 25 September 2019.
The Sustainability Awards is established as the most serious, rigorous and prestigious competition for sustainability in packaging, serving as a focal point to discuss innovation strategies, cross-fertilise ideas, and celebrate the value chain's most outstanding advances.
Packaging waste, climate change and other environmental crises demand an urgent and joined up response from the CPG industry. Challenging us to take a rigorous and holistic view, the Sustainability Awards sets the agenda on best practice, turns the spotlight on the most important areas of R&D, and helps separate greenwash from the innovations that make a genuine difference.
Industry's leading sustainability event at Europe's leading packaging fair
The Sustainability Awards is independently judged by an expert jury representing a cross-section of the European value chain, including leading brand owners and retailers, sustainability organisations, waste management, academia and industry experts. Each year the competition sees ever growing engagement, assessing submissions from start-ups and global brands by the same, careful criteria.
Culminating in a ceremony at FachPack on 25 September, the Sustainability Awards 2019 will once again be presented in conjunction with the Sustainable Packaging Summit, hosted and curated by Packaging Europe to form the unmissable sustainability event of the year.
Engage with the Sustainability Awards
Submissions to Sustainability Awards 2019 will open at the end of March. Over the coming weeks Packaging Europe will publish details of the submissions process, unveil the new competition website, and announce the names of star judges joining this year's jury.