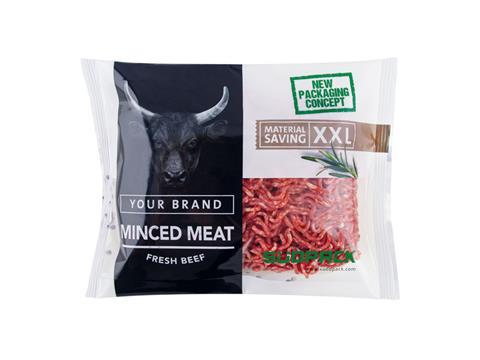 Südpack is launching two mono-material polypropylene packaging concepts for minced meat that omit bottom trays.
The company claims that its Flow Pack PurePP film can achieve material savings of up to 60% compared to tray packaging. For example, a PurePP flow-wrapped pack for one kilogram of minced meat reportedly weighs in at 9.5 grams.
Südpack also says that it is an attractive solution for manufacturers in other respects, arguing that the product can be processed "quickly and efficiently" on all common flow wrapping machines, even at high speeds, thanks to its good sealing properties.
Südpack has also announced a packaging solution for minced meat in thermoformed packs, consisting of Multifol PurePP soft film as the bottom film and a peelable PP-based upper film.
According to the company, this contributes significantly to the reduction of packaging material volume: the solution reportedly uses 55% percent of the material used to make tray packaging. The weight of a pack for one kilogram of minced meat is apparently as little as 10.7 grams.
Südpack points out that manufacturers can process this solution on all existing thermoforming packaging machines and, depending on production requirements, the concept supports modified atmosphere packaging (MAP) and vacuum packaging.
Regarding functionality, Südpack claims that its two new film concepts offer the same high level of product protection as standard tray packaging. It says that with both concepts, the typical shape and consistency of minced meat is preserved, while an integrated antifog effect prevents the pack from steaming up. In terms of design, both can be printed on using flexographic or gravure printing.
The new composite films are predominantly made of material from the same polymeric family whilst, in Südpack's view, offering the same protective and convenient properties as composite materials made of different polymers. The PurePP products are made using polypropylene, and Institute cyclos-HTP has certified a recyclability of 95% for the resealable Multipeel PurePP film.
"The Pure-Line products are the result of intensive research and development. They demonstrate our continuous efforts to improve and rethink existing packaging concepts," explains Carolin Grimbacher, managing partner of the Südpack Group.