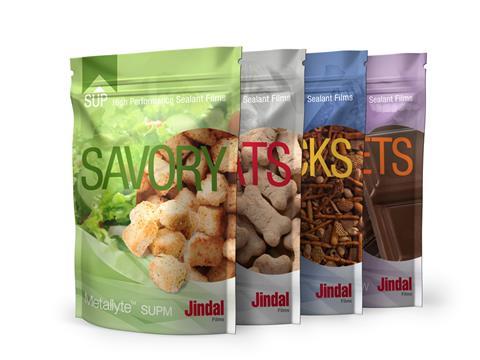 Growing variety equals increased challenges
On top of visual appearance to support promotion, the proliferation of SUP formats across numerous market segments is elevating the importance of having different barrier technologies to provide protection, and stiffness requirements for performance.
Jindal Films has observed an increasing number of format (sizes, shapes), aspects (clear, white and metallised) and production methods (pre-made, horizontal and Vertical FFS) resulting in more complexity in the types of laminates being used.
In response to these market demands, Jindal Films has developed PE and PP based film solutions with (e.g. metallisation) or without barrier to cater to the needs of the different segments.
Laurent Chantraine, market development manager, shares the biggest challenge facing the SUP segment as, "the need to move towards mono-material structures, which is inherently difficult due to the processing methods in place and the large use of PET base laminates for easier processing (heat resistance)."
Reducing complexity
Reducing the complexity of the structures (moving from 3-ply to 2-ply) and driving slowly but steadily towards mono-material solutions (e.g. all PP laminates) is a strong focus for Jindal Films. The ability to enhance stiffness with biaxially oriented materials (BOPP, BOPE) compared to conventional cast or blow sealants (CPP, PE), allows the industry to still significantly reduce the packaging weight, especially in the field of SUP.
"We are developing a range of products aimed at the pouch segment, delivering improved barrier, ease of opening (tear), lower cost and improved sustainability (reduced total thickness of laminate) over current typical structure," Laurent Chantraine shares.
The range of BOPPE and BOPE films also address other market needs. "SUP formats are more subject to pressure, long dwell time and excessive heat in the sealing areas due to gusset folds in the seals and the common usage of zippers and fitments. This presents us with a challenge to redesign the laminates with thinner and more simple structures (2-ply) in our attempts to drive out cost."
Jindal Films Bicor 50SUP490 is a high clarity stiff OPP film aimed at replacing thicker PE films and reduce the thickness of the sealant by >20 per cent in some dry food segments (e.g. confectionery) where SUP formats are still growing. It delivers better clarity, improves puncture resistance and stiffness over existing solutions, enabling clean tear propagation from a notch without resorting to laser scoring. A range of oriented PE films SealTOUGH XE400 (clear) and XE447 (white) have also been developed for more demanding sealing requirements which also benefit from the ease of tear from a notch.
Exploring new structures and materials
A study conducted by TOPAS Advanced Polymers reveals that discrete layers of cyclic olefin copolymer (COC) provide significant performance enhancements in three- and five-layer packaging film structures made of linear low density polyethylene (LLDPE). The findings were recently shared by Paul Tatarka, market development manager for TOPAS Advanced Polymers.
Via design of experiments (DOE) methods, TOPAS researchers demonstrated that COC provides greater than expected toughness, strength, stiffness, and appearance (low haze) in multilayer packaging structures made of LLDPE. "We found that by splitting COC into at least two layers in five-layer structures, further significant property enhancements are possible without changing COC content," explained Tatarka. He adds TOPAS COC ®polymers deliver winning tear properties, stiffness and strength, and a noticeable enhancement in sealing properties.
Feldmuehle Uetersen GmbH has focused on launching a heat-sealable paper solution. The coated flexible packaging paper with a heat-sealable reverse side can be easily used on existing packaging lines and can be recycled in the waste paper cycle. This provides brand owners with a natural and recyclable material option, which can be used in form-, fill- and seal packing lines similar to plastic films. Available with a high white, glossy or matt surface, the product is suitable for high-quality printed packaging as well as for simple inner pouch solutions.
"For applications which don't require a barrier function from the material, our product offers an environmentally friendly alternative, made primarily from cellulose instead of plastics," explains Stefan Eitze, technical marketing manager at Feldmuehle. The material gets its sealing functionality during the paper production process with a water-based dispersion coating applied. It is re-pulpable in the waste paper recycling process, so that the raw materials can be reused."