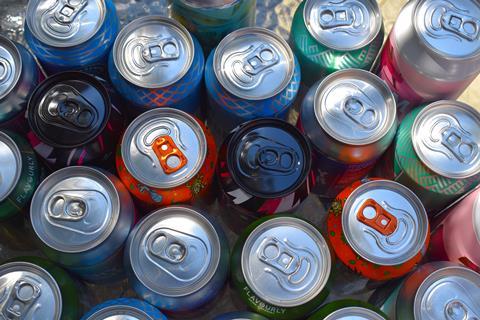 A report from Smithers has found the metal packaging market has experienced significant growth since 2019, which is likely to continue into 2027 due to changing consumer practices during the COVID-19 pandemic and increasing demand for recyclable packaging.
According to the report, an extra $10.7 billion has been added to global sales of metal packaging across 2020-2021, with Smithers estimating the market value to be $127.3 billion in 2022.
Smithers says that the segment is led by beverage cans, accounting for nearly 80% of growth (equivalent to an extra 383 billion cans sold) in 2021. The COVID-19 pandemic appears to have further contributed to the steady expansion of the beverage can sector, as consumer behaviour changed in reaction to lockdowns. For example, according to Esko, online sales of alcoholic beverages more than doubled between 2019 and 2020, while takeaway sales likewise complemented the growth of e-commerce.
Several can convertors have capitalised on this growth, according to Smithers. This includes Ball, Crown, Ardagh, and CanPack, which will together invest an estimated $10 billion in new equipment between 2020 and 2025. This will apparently add an extra 100 billion units of capacity to global can production.
Similarly, Smithers reports a "strong uptake" of food cans, especially at the beginning of the pandemic as consumers sought to buy longer shelf-life items in order to reduce the number of times they needed to visit supermarkets. In addition, e-commerce in this sector also demonstrated a "dramatic increase", with Smithers explaining that ambient products that could be shipped directly to the home without refrigeration have become more popular, again as consumers seek safer ways to shop.
The increase in the food and beverage can sector apparently "more than compensated" for a decline in non-consumer formats, such as industrial bulk containers, industrial drums, and barrels. Smithers says these were impacted by reduced shipping volumes that corresponded with a temporary collapse in demand for oil and other commodities.
Smithers claims that the value of the metal packaging market could reach $147.1 billion in 2027, with a forecasted compound annual growth rate (CAGR) of 2.9%.
However, Smithers also notes future challenges related to supply chain disruption. In H2 2021, convertors in particular faced rising costs for raw materials, energy, and transport. Smithers predicts that these factors will continue to impact the metal packaging industry going into H1 2022.
Smithers suggests that continuing to support and develop the well-established recycling industry associated with metal packaging could be a way to overcome such challenges. For example, the group says that the focus on environmental, social and governance (ESG) performance, especially in FMCG segments, could maintain the drive for metal beverage and food containers as an alternative to rigid plastic. In addition, new technologies and Industry 4.0 concepts could help to lightweight cans, boost efficiency, and integrate processes, Smithers concludes.