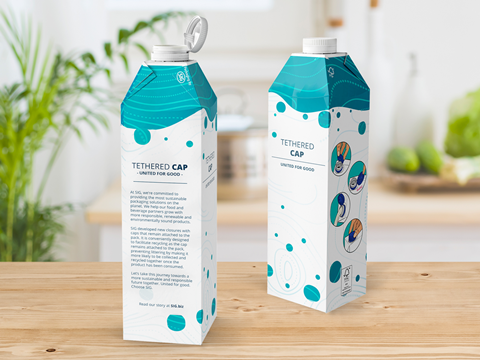 SIG announced today that tethered caps will be launched for its beverage cartons in Europe in the second half of 2021, ahead of the July 2024 deadline set by EU regulations.
In addition, customers choosing the company's SIGNATURE packaging solutions will receive tethered caps made from polymers linked to renewable, forest-based materials.
"Our new tethered cap solutions build on SIG's strong track record on sustainable innovation as we go Way Beyond Good for people and the planet," said Ali Kaylan, SVP Innovation and VP of global marketing at SIG.
"By announcing the launch three years ahead of regulatory requirements, we are providing reassurance for customers as they prepare to comply with forthcoming EU regulations. Thanks to SIG's flexible and adaptable systems, our tethered caps can be used with existing SIG filling lines and closure applicators, making our solutions a secure investment for the long-term."
SIG's tethered caps will be launched initially for the closures used for its most popular packs in Europe. The tethered domeTwist will be available for SIG's carton bottle combidome, as well as tethered combiMaxx and tethered combiSwift options for SIG's core family-size carton portfolio. Together, these account for around 90% of SIG's European closures by volume.
The new tethered caps are designed to be used with existing SIG filling lines and closure applicators, with no major capital expenditure required by customers. Indeed, compatibility with existing SIG filling lines and customers' existing packaging designs, secondary packaging and logistics was reportedly a key consideration in the design of the caps.
When the pack is opened for pouring, the cap can be firmly fixed at the desired position by pressing it down until it clicks. This means the consumer can pour from the pack without the cap getting in the way and without needing to hold down the cap with their fingers. To close the pack, the cap is simply lifted slightly before closing in the usual way.