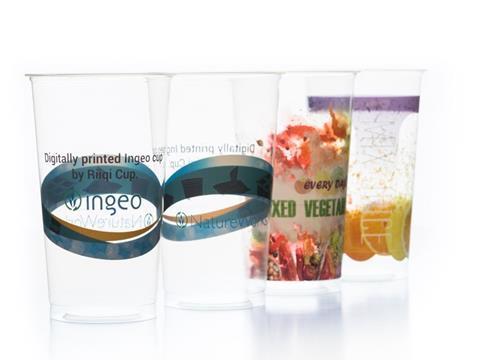 The latest in Swiss digital printing technology applied to cold cups by See Box not only provides an entire new level of vibrant graphics, but also eliminates a minimum order quantity and offers the ability for mass customization – lot size of one. (See Box Hall 11 | Stand A07)
See Box, one of the world's leading environmentally committed food serviceware manufacturers, announces at Interpack, May 4-10, its new multi-million-dollar capability to digitally print stunningly vibrant and attractive graphics on its Riiqi Cup brand of Ingeo™ cold cups for sporting and music events, festivals and fairs, and public and private food courts. These cups are now in the process of being certified compostable. See Box invested in the latest Swiss digital printing technology to add a new dimension to food serviceware, an aspect that has the potential to increase the use of compostable cups globally and decrease plastic waste buried in landfills. (See Box Hall 11 | Stand A07)One of the largest producers of Ingeo-based cups, bowls, and lids, with 40 Illig thermoforming machines, 10 extruders, and 10 printing machines, See Box believes this is the first application of digital printing on Ingeo bioplastic cold cup food serviceware. The company did extensive research into available technology and found in their Swiss supplier a digital printing technologist that shared its commitment to quality and the environment. See Box and its partner worked together to achieve the vibrancy desired.
"Food serviceware manufactured from Ingeo bioplastic is growing in usage, which is a very good thing environmentally and socially," said George Pan, See Box Deputy General Manager. "Entering a new era of mass customization and truly vibrant graphics makes these food service items even more attractive. We anticipate the added features offered by this process will stimulate demand." Pan explained that the high clarity and gloss inherent to Ingeo thermoformed articles are an excellent match to show-off the vibrancy and precision of the digital print work. To take full advantage of its new digital printing technology, See Box is also launching a new "V Cup" series of Ingeo cups designed to maximize the print area available on the cup. The V-Cup will be available in 10, 12, 16, 20, and 24 ounce sizes.
With typical printing technology, each design requires a large minimum order and this limits the number of different graphic presentations. With digital printing, See Box customers can order the same number of cups except now with a host of assorted designs, for example, every member of a sporting team or various celebrities. The same ability to customize, even down to a lot size of one, extends to special events such as playoff games. See Box is now engaged in the process of having cups certified compostable.
With this new technology, See Box customers will no longer be responsible for printing plate set up fees or required to make large minimum orders. Overall, the digital process produces less waste ink, an additional environmental benefit. There are no design or color limitations with the new process.
"We are proud to see this level of innovation in the production of Ingeo-based food serviceware," said Steve Davies, Director of Corporate Communications and Public Affairs for NatureWorks, the manufacturer of naturally advanced Ingeo bioplastic. "See Box has been a committed Ingeo partner for many years, always investing to stay on the leading edge with its product offer "
The results of this See Box initiative will be on display at Interpack. Attendees are urged to come to the See Box Stand A07 in Hall 11 to "see" for themselves the power of digitally printed colorful graphics on crystal clear Ingeo cups to attract the eyes and interests of consumers.
More info: