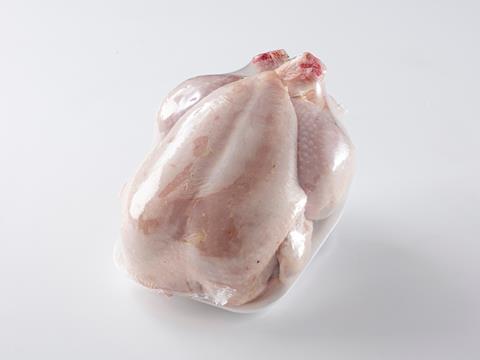 Sealed Air has developed a new food-grade soft plastic film containing Certified Circular Resins (CCR), as it continues to strive towards creating 100% recyclable or reusable packaging solutions by 2025.
The new CRYOVAC Brand rBDF S10 Film is made using up to 30% food-grade CCR, which is certified by the International Sustainability & Carbon Certification (ISCC) – an independent body that accredits materials and processes for the circular economy.
Along with its levels of recycled plastic content, Sealed Air also says that its CRYOVAC Brand rBDF S10 Film can help food companies to further improve sustainability through its ultra-thin barrier. At 21 microns, it is, reportedly, a third lighter than widely used HFFS packs and three times thinner than other thermoformable films.
Arnaud Brunet, fluids and adjacent markets platform director at Sealed Air, said: "The innovative use of CCR in CRYOVAC Brand rBDF S10 Film perfectly complements the shrink packaging's ultra-thin, high resistance and anti-fog performance. Together, these form a packaging system well-aligned with a circular economy that's aiming to lower waste and increase resourcefulness."
According to Sealed Air, the high gloss finish and transparent clarity of the new film can help to enhance the appearance of food to drive sales and reduce waste. Meanwhile, the company also says that leak-proof closures, hermetic sealing, and a protective barrier further minimise waste by safeguarding food integrity and extending shelf-life.
CRYOVAC Brand rBD S10 Film can be used to wrap foods with or without trays. The overwrap film with modified atmosphere is suited to fresh red meat, poultry, fish, smoked and processed meat, cheese, convenience food, and ready meals.
Brunet concludes: "CRYOVAC Brand rBDF S10 Film epitomises how Sealed Air is supporting companies throughout food supply chains to meet the opportunities and demands of a circular economy. We are embracing sustainability from the very beginning of packaging design and development to create solutions that optimise resources and enhance efficiencies."