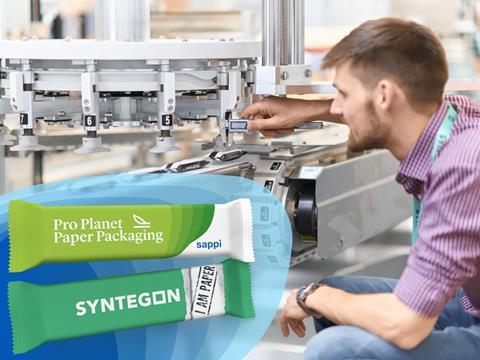 Sappi is joining forces with Syntegon Technology for a strategic partnership that will develop paper-based packaging solutions for the confectionery industry.
While Syntegon typically operates independently of packaging materials and Sappi independently of packaging machines, the companies now hope to bring their combined expertise to the fore.
In practical terms, a well-known chocolate manufacturer successfully changed the packaging of one of its products from conventional to Sappi's paper-based material, after installing the 'paper-ON-form' retrofit kit from Syntegon on its existing fill-and-seal machines.
"Depending on the product protection requirements, we will enable the use of conventional multi-layer laminates through recyclable mono-materials or paper – both on existing Syntegon technology owned by our customers and on new technology," explains Christoph Langohr, project manager, sustainability horizontal at Syntegon.
In a statement, Sappi added: "The pressure on brand manufacturers and thus on the packaging industry from consumers, retail and legislators to offer environmentally friendly materials and processes is very high.
"Companies' own aspirations to implement sustainable solutions are also growing rapidly, so we want to offer reliable and sustainable paper-based packaging solutions to predominantly large and medium-sized customers in the confectionery industry."