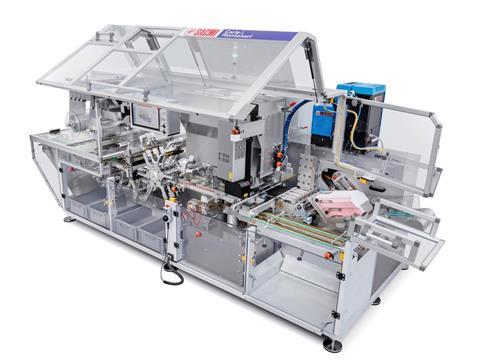 Sustainability, performance, new technologies: that's what SACMI Packaging & Chocolate is bringing to interpack 2023.
HTB is the new wrapping machine forchocolate tablets and bars with an all-electronic approach that, for the very first time, replaces a purely mechanical design.
HTB combines the best wrapping quality with the highest speed on the market: up to 250 tablets per minute, without any damage to the wrapping and/or processed product. Moreover, HTB is at the forefront of sustainability and energy recovery.
Already a big market hit thanks to its unique compactness, efficiency and versatility, JT Advance is the top-of-the-range flowpack machine for chocolate/cereal bar, snack, and praline lines requiring high productivity (up to 150 meters of film, 1300 products per minute), integrated with the Advance S-334, a next-gen secondary packaging unit, which ensures high output rates (up to 800 products per minute, 150 boxes sealed). With the innovativelinear motor system, the box form-fill-seal stages are independent, maximizing line efficiency and versatility, especially in the case of frequent changeovers.
The new TF22 TS (Top Seal), tray forming machine is for produce that aims to meet the need for protective, tamper-evident packaging. TF22 Top Seal also lets manufacturers form cardboard trays for special sizes usually made of plastic.