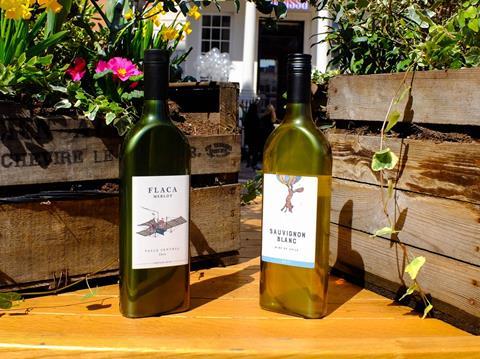 Garçon Wines has launched their wine bottle design, manufactured by award-winning RPC M&H Plastics in the UK. Inventor of the environmentally-friendly, innovative 750ml slimline wine bottle that is revolutionising wine retailing, logistics and delivery, Garçon Wines launches a partnership of their letterbox wine via the UK's fastest growing online florist Bloom & Wild and the startup which has mastered letterbox flower deliveries.
Passionate about manufacturing the product in the UK while remaining focused on tackling pollution from plastic waste, Garçon Wines worked with RPC M&H Plastics to develop bottles made from 100% recycled PET and that are fully recyclable, meaning no new virgin plastic is created and they conform to the traditional Bordeaux wine bottle shape. Bottles made from the right plastic and used responsibly are presently the greenest wine bottles available and Garçon Wines offer the most sustainable solution. The recycled material is significantly lighter than glass and tough enough to withstand the postal system. The unique design means the packaging can fit securely and conveniently through a standard sized letterbox meaning no missed deliveries and ultimately leading to further reductions in CO2 emissions. Garçon Wines offers the ultimate in delivery convenience; wine perfect for the 'Amazon generation'.
"As a responsible company our aim has been to create the most environmentally-friendly wine bottle solution that would innovate and revolutionise the way consumers receive wine and businesses supply wine. Offering one of the first bottles in the world to be made from 100% recycled PET material has enabled us to create the greenest wine bottles available, as a result of them being 87% lighter and 40% spatially smaller than traditional wine bottles, hugely reducing carbon emissions from the wine supply chain. We are passionate about informing businesses and consumers alike about how the right plastic can, and should, be used responsibly and Garçon Wines will continue to innovate this space." Santiago Navarro – Co-Founder and CEO of Garçon Wines
Garçon Wines was recognised at the prestigious World Beverage Innovation Awards where they won Best New Beverage Concept.
After investing in research and development for the bottle manufacturing in the UK with RPC M&H Plastics, the brand is working closely with advisors including Master of Wine, winemaker and bulk wine expert Barry Dick MW, packaging and plastics specialist Sarah Greenwood and consumer packaging patent attorney Debra Smith. Garçon Wines' extensive Intellectual Property (IP) portfolio for their range of slimline wine bottle designs was granted in the UK in November 2016. In May 2017, the IP was extended to cover 35 countries internationally.
Garçon Wines' acknowledges the issue of plastic waste and pollution and is the only brand to offer a realistic and viable solution in the wine industry. The bottles are currently featured in the Museum of Design in Plastics and the business is already used as a case study in several UK educational institutions.
Garçon Wines will be available from Bloom & Wild from 27th April 2018
More info:
This is sponsored content.