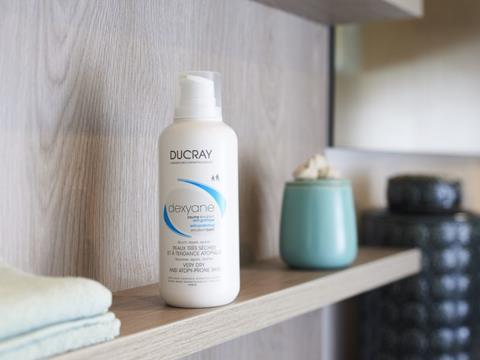 French dermatological specialist Laboratoires Ducray has selected AirFree airless solutions from RPC Bramlage for its new Dexyane anti-scratching emollient.
The company is using the patented AirFree® Vega bag-in-bottle and Ecosolution™ airless pump for Dexyane balm.
The AirFree® Vega comprises a co-extruded airless bottle incorporating a multilayer pouch with EVOH barrier protection, produced in a single stage process, which keeps the formula intact and preserves its active ingredients. Similarly, the Goya bag-in-bottle provides high protection for the product's active ingredients, enabling fewer preservatives to be used and preserving the cream's non-sticky texture, with efficient 95% evacuation from the bottle.
For user convenience, both solutions deliver precise and consistent doses with easy and intuitive activation, and can be used in any position in order to reach all parts of the body.
The fully recyclable Vega bottle and Ecosolution™ pump combination has been awarded Ecocert certification. The Ecosolution™ pump is made completely from plastic, with no metal parts. It is also produced using over 50% fewer parts – four instead of the 10 typically found in a traditional dispenser.
The Vega bottle offers excellent flexibility on production lines as it is compatible with all standard filling equipment and is capable of both atmospheric and top filling with a high speed snap-on of the pump. It is certified by COTREP (Technical Committee for Plastic Packaging Recycling), which supports the development of recyclable packaging solutions without hampering innovation.
More info: