Announcing the finalists of the Sustainability Awards 2018! The 17 independent judges for the leading competition for innovation in sustainable packaging have graded all the submissions over the summer – and this week Packaging Europe is revealing the top four entries in each category. The six category winners and overall Sustainability Awards 2018 winner will be unveiled at Scanpack on 23 October.
Here (in alphabetical order) are the four finalists in the 'Resource Efficiency' category:
Finalist A:
Disappearing cement sack - submitted by BillerudKorsnäs
Overview
D-Sack consists of two layers of white BillerudKorsnäs QuickFill® paper. This paper combines the traditional properties of high strength and high porosity with a patented barrier treatment that allows the sack to resist water vapour, but disintegrates when subjected to mechanical action, aggregate and water in the cement mixer.
The sack disintegrates into minute fibres that are bound into the concrete or mortar.
Independent studies show that the presence of paper fibres in the concrete mix has no negative effect on concrete properties.
Apart from the innovative ability to disintegrate under the right circumstances, the D-Sack is a high performing sack with a top deaeration construction for quick and easy filling.
Impact
D-Sack has 30% lower climate impact than conventional cement sacks. A life cycle assessment conducted by the IVL Swedish Environmental Research Institute, confirmed that D-Sack is a CO₂ sink in a hundred-year perspective because the carbon dioxide bound during tree growth and then incorporated into the paper, remains in the concrete structure.
Finalist B:
EcoFishBox - submitted by Stora Enso
Overview
EcoFishBox corrugated board packages made from renewable wood fibre are an environmentally friendly option for styrox (EPS, expanded polystyrene) packages widely used in the fish industry.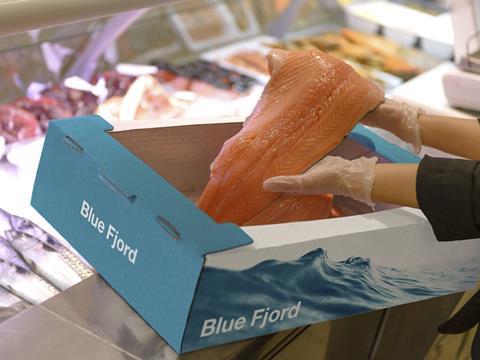 Over 100 million styrox packages are used for fish packaging annually in the Nordic countries. Until now, there has been no competitive fibre-based packaging concept in the market to replace the styrox packaging with the required performance. Thanks to the EcoFishBox packaging concept there is now a new alternative made from renewable wood fibre on the market, a leak-tight corrugated board packaging solution with excellent stackability properties. The corrugated packages are delivered from the factory to fish packers in form of flat corrugated board sheets. This saves a tremendous amount of space in storage and transport, as new EcoFishBox packages take seven times less space than a styrox package. Packaging systems are also an integral part of the EcoFishBox concept, which makes it easy to automate packaging operations widely. Packaging automation saves both the labour and storage costs.
Impact
Thanks to both its renewable raw material and its recyclability, the EcoFishBox packaging concept is ideal for the need to find an alternative, responsible packaging solution for the styrox packages widely used for fish packaging.
As it can be flattened and fully recycled, EcoFishBox can reduce the packaging waste handling, transport and recycling costs by up to 60%. Another major environmental motive is related to transport. The corrugated board packages are delivered as flat sheets from the factory to the fish packers. This means that transport and storage of EcoFishBox packages takes seven times less space compared to styrox packages.
According to 'LCA of the industrial use of EPS packaging in Europe, 2011' by PWC Ecobilan the reduction of emissions of greenhouse gases is above 30%.
Finalist C:
NanoPack - a Horizon 2020-funded project
Overview
NanoPack is an EU-funded project that is developing state-of-the-art antimicrobial packaging solutions for perishable foods based on natural nanomaterials that will prevent food-borne illness outbreaks and reduce food waste caused by early spoilage. The novel packaging films will display antimicrobial activity against a range of microorganisms, including bacteria, yeast and moulds which cause food spoilage and extend the shelf-life of food products by up to 25%.
Applying the power of nanotechnology, the project will employ polymer composites based on natural Halloysite Nanotubes (HNTs) as reliable and safe carriers, capable of tailored release of bioactive payloads. Maximising safety, HNTs slowly release minute amounts of potent, volatile and broad-spectrum, natural and EU-approved essential oils, which exhibit both antimicrobial and anti-fungal properties, into the packaging headspace.
NanoPack intends to develop, scale up and run pilot lines in operational industrial settings to manufacture and validate antimicrobial polymer films that are commercially feasible and accepted by retailers and consumers alike.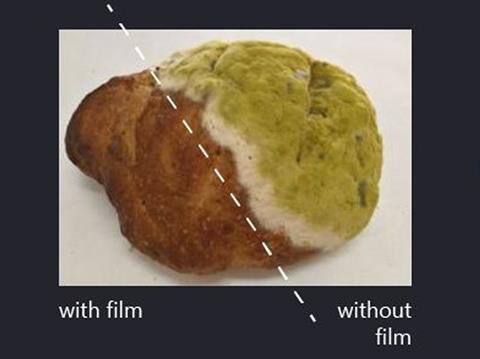 Impact
An estimated 32% of all food produced globally is lost or wasted each year, representing a massive waste of the valuable resources used in food production. Food losses and waste lead to major economic losses, cause significant harm to the environment, and have a negative impact on food availability and food security.
NanoPack is expected to provide sustainable solutions for enhancing food safety by inhibiting growth of microbes in food products, which will prevent early spoilage and foodborne illness outbreaks. The active food packaging solution will prolong the shelf-life of foods, directly contributing towards tackling the problem of food waste. Minimising food losses caused by spoilage can reduce operational costs for food manufacturers and retailers, which in turn can lower food costs for consumers.
A first round of antimicrobial efficacy tests has demonstrated the NanoPack film's ability to inhibit mould growth on bread. Breads that were inoculated with relevant-mould spores and packed with NanoPack film inserts had no mould growing for up to 27 days post packaging. The results confirmed the ability of the antimicrobial packaging to significantly extend shelf life and reduce food waste. NanoPack is currently getting ready for the second round of testing with more sophisticated film formats to expand these promising results to other perishable foods and further improve its performance.
Finalist D:
Waterless Internet Flower Packaging - submitted by Uflex Limited
Overview
Waterless Internet Flower Packaging is based on Active Modified Atmospheric Packaging Technology (AMAP). Uflex Limited has engineered a special proprietary patented polymeric film for offering packaging solution for fresh fruits, vegetables and flowers. A Fast Respiration Meter is used for ascertaining the respiration rate of flowers and associated software thereafter calculates the required film permeability. A special laser system uses this information to adapt the permeability of the film offered by Uflex through micro perforations.
This special proprietary polymeric substrate is the first biodegradable (by composting) film that maintains the hydration of flowers during transpiration (evaporation causing loss of moisture during respiration) thus creating a closed loop system. Flowers are put to slow respiration mode by reducing the oxygen availability preventing excess oxidation and dehydration. The film keeps the flowers breathing in hydrated oxygen and release excess humidity keeping them touch dry.
The flowers thus can go without water for 20 days as the humidity is fed back in to the flower when it continues to breathe in the modified atmosphere and further seven days in vase.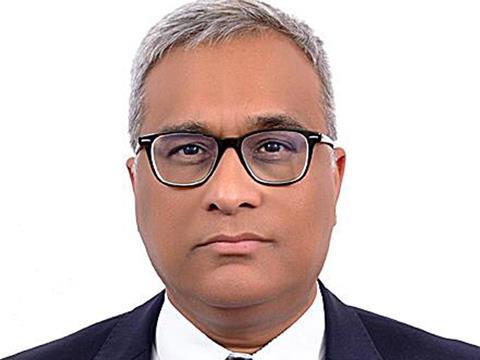 Impact
Flexfresh is the first ever film for packaging fresh produce that is bio-degradable by composting and complies with all international regulations for overall migration (EC 1935/2004), reach compliance (EC 1907/2006) and qualifies for biodegradation under DIN EN 13432 (2000-12). The packaging can be industrially composted within 180 days.
Besides extending the shelf life of flowers, the use of millions of gallons of water in the supply chain (transit) is also eliminated because the flowers packed using this technology do not require any water in the supply chain.
Elimination of water from the supply chain also increases the product volume-to-weight ratio. This means that one truckload/shipload can accommodate more flowers thereby reducing the number of trips required for transportation of the same quantity of flowers. This further helps in reducing the carbon footprint besides bringing down the logistics costs and associated handling. This is a zero-waste packaging arrangement and qualifies to be a green solution.
Given the shelf life extension without water, exporters globally can send their consignments by sea-freight rather than expensive air-freight.
Want to be the first to know the winners of the Sustainability Awards 2018? You're welcome to join us at the Awards ceremony and the Sustainable Packaging Summit at Scanpack in Gothenburg on 23 October 2018. Contact Packaging Europe by email or Twitter for details.