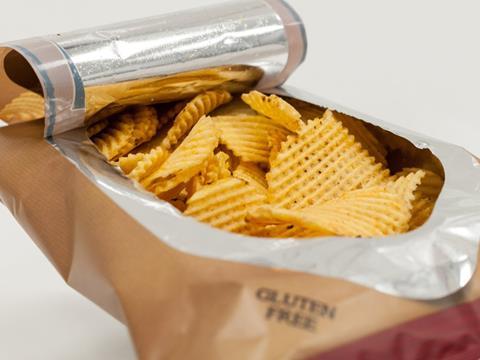 Resealable solutions in the food market are fast growing. From a prominent residence in the cheese aisle they have opened up into other sectors due to their wide-ranging benefits. Packaging Europe's Libby White reports on one of the big trends we will see reflected at interpack 2017.
WRAP's 'Consumer Attitudes to Food Waste and Food Packaging' report, published back in 2013, highlighted the growing demand and popularity of resealable solutions. Produced in partnership with INCPEN, the Packaging Federation, the Food and Drink Federation, Kent Waste Partnership and the British Retail Consortium, the report showed that reclosable packs were one of the three most useful packaging innovations to consumers.
The report further highlighted that reseal technology can even motivate the purchasing decisions of consumers. When asked to choose between two cheese products, one with reclosability, 20 per cent of consumers who chose the reclosable pack referred to function as the main reason.
A contemporary choice
Packaging with resealable applications provide a modern design with increased functionality. In order to drive product sales, manufacturers need to focus on user-convenience, provide an effective way to store products for longer, offer sustainable initiatives, and an ability to provide differentiation on-shelf.
Phil O'Driscoll, head of innovation and NPD, Parkside Packaging, comments, "The food packaging market is changing dramatically to cater for convenience. Features such as ease of opening, reclosability and portability have been found to influence the purchasing decisions of consumers who are looking for convenience.
"Reclosable products address the need for multiple consumption occasions, storage between uses, as well as resolving portion control and food waste issues."
In a world where many cost-conscious consumers buy food in bulk, the ability to confidently re-close the package to keep food fresh is critical to prevent food waste. A new packaging solution from Bemis Co. using DuPont materials is an award-winning packaging solution that can contribute to reducing some of the 1.3 million tons of food that is lost or wasted around the world annually.
The resealable package (BelGioioso Mild Provolone) solution from Bemis Co. using DuPont™ Selar® PA and DuPont™ Bynel® is made up of two individually sealed compartments. This transformational package provides consumer convenience by allowing the user to easily peel and reseal the package 20 times or more with fingertip pressure. For added convenience, the package is perforated, which allows the consumer to easily separate the two compartments without using a knife or scissors.
Bemis' SmartTack™ EZ Peel® Reseal™ technology allows the individual cheese compartments to be sealed separately, preserving the freshness of the unused portion until opening and reducing food waste - all while creating differentiation.
Increasing applications
"I believe that the use of resealable solutions will continue to grow in the food sector, especially for products such as pre-sliced meat and cheese. Biscuits and prepared fruits are traditional but growing areas. The general growth in the market for salty and protein 'on the go' snacks is seen as an opportunity," comments Angela Campbell, director, Reseal-it by Macfarlane Labels.
In 2015, Wellpak, a leading supplier of fresh produce from around the world, launched a new product line: the resealable Ezo Punnet for berries. The launch was a milestone in fresh produce packaging, and highlights just one sector in which resealability can add a point of differentiation for retailers in an ever more competitive marketplace, as well as ensuring the berries are fresher for longer.
As another prime example of expanding into new opportunities, Reseal-it® are currently preparing to develop resealable technology to product lines such as pasta and rice bags, confectionery and medical devices. It is also currently working with its US partners, Printpack, to expand the application of Reseal-it® solutions into personal heating products for use when hiking or taking part in outdoor sports activities.
Functionality
Angela Campbell, goes on to say that increasing customer expectations create new challenges for the manufacturers and the packaging industry. Customers want solutions that are easy to open, and convenient to use.
"Studies show that difficult packaging is not only extremely annoying to open but can also lead to packaging-related injuries, as customers often reach for items such as knives and scissors to access the contents of the pack," she explains.
"Packs with resealable technology address all these issues by offering a solution that is easily accessible and designed for repeated use. This enables consumers to enjoy a full product life and better manage their weekly purchases."
Apart from easy opening and convenience, resealable technology has many other benefits to offer to both manufacturers and the consumer.
Resealable packs promote sharing and encourage consumers to reduce portion sizes. They can be opened and closed up to 25 times and are a great on-the-go option for healthy-snacking when travelling or away from home.
With resealable technology products remain in their branded packs when they are kept at home in the refrigerator after first opening, avoiding the need and cost of repacking in cling film, freezer bags or rigid containers.
As Reseal-it® packs come with a highly-visible tamper evident feature, they help to ensure food safety and reassure customers that nobody can touch the food items before they buy them. There are a variety of solutions to suit differing foods, pack styles and circumstances. The easy opening feature also eliminates the need for customers to use knives or scissors to get into their goods, which minimises the risk of packaging-related injuries.
Less food waste
Jane Bickerstaffe, director at INCPEN, the industry council for research on packaging and the environment, comments, "People take packaging for granted unless it doesn't do its job properly or they think there's too much or it. They also expect it to be easy to use. For products that aren't used up at the first time of opening, people may in addition want to be able to re-seal the packaging. When Birds Eye added a re-seal feature to bags of frozen peas, it was widely welcomed by consumers. No more loose peas floating round at the bottom of the freezer!"
A re-seal feature can keep food fresher for longer. The incentives behind this advantage are clear, as Jane Bickerstaffe highlights, "This is important because households waste large amounts of food and that's an environmental disaster. Ten times more resources are invested in growing and processing food than in the packaging used to protect it. It's well worth spending a little more on the packaging if that results in less food waste."
INCPEN encourages companies to consider ease of use and re-sealing at the design stage. It's an area where there is clearly potential for innovation. Jane Bickerstaffe underlines that there are still areas of improvement when it comes to this innovative solution, "Some re-sealable packs just don't re-seal, especially those sticky labels added to bags of dried goods such as rice, ground coffee and peanuts. The label may stick once but it loses its effectiveness on subsequent uses. Zip locks seldom worked when first introduced but are now much more effective, for example Cathedral cheese is a good example."
INCPEN and the Food & Drink Federation will be publishing a Sustainability Checklist in March 2017 to help companies choose and optimise their packaging- it will refer to re-closure.
A sticking point
A reclose feature within food packaging design can help to maintain the quality of the product by retaining its freshness and moisture. However, the pack is only as good as its adhesive.
Mr O'Driscoll, head of innovation and NPD, at Parkside Packaging, says, "It is crucial that brand owners and their converter partners choose the right adhesive for their packaging application. Packs with a poor adhesive are expensive for the entire supply chain and with the current media focus on product contamination and hygiene, the adhesive becomes an ever more important consideration in pack design."
There are certainly challenges with easy open and reclosable solutions. Brand owners and converters need to balance the need to have a robust seal for the purposes of the supply chain process, yet allow easy opening and reclose functionality for consumers.
As lifestyles change, food-to-go and sharing packs are becoming an increasingly important category for retailers. Parkside has worked recently with Seabrook Crisps to meet these needs designing a new reclosable sharing crisp bag using its unique laser technology.
The new lasered pack enables consumers to peel open the front of the packet, making it easy to share the contents with friends, before reclosing it and saving for later. The reclosability feature helps to keep crisps fresher for longer, when compared to an open pack, making it an ideal solution for the snack market.
The new pack format utilises Parkscribe® laser-scribing technology from Parkside, which replaces the need for costly tear strips, zips and closures in packs. Unlike most reclosable openings, the Seabrooks pack contains a solution, which is integral to the laminated pack structure, rather than having a label attached to the pack.
While it may continue to be a key function in packaging, reclosable packaging is not a new concept. As Mr O'Driscoll, points out: "Consumers have been buying products in bottles and jars for years and we accept recloseability as the norm for a wide range of products, from coffee to shampoo and milk to jam."
He concludes, "Although reseal technology is something that consumers like to have, the signs are that it could become a must-have for the future. As a result packaging manufacturers and brand owners alike will be adopting further take-up of reclose technologies going forward."