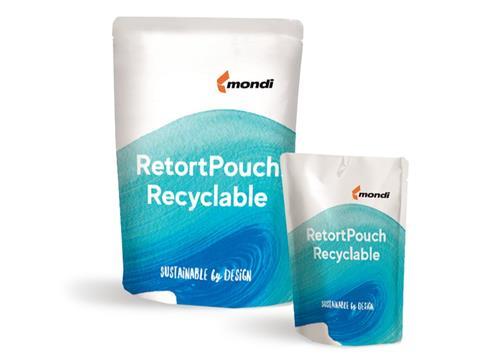 Mondi launches RetortPouch Recyclable, a monomaterial solution apparently featuring a high-barrier film alternative to aluminium that means the pouch is "fully recyclable".
The company says its new high-barrier pouch can replace complex multi-layer and unrecyclable packaging for a range of food and wet pet food products.
It adds that this includes moist or semi-moist foods that are heat-treated in stream or hot water retort vessels to achieve commercial sterilisation for shelf stability, which requires retort packaging. The RetortPouch Recyclable solution apparently replaces the aluminium typically used to achieve these properties, replacing it with a high-barrier film that keeps temperatures high and maintains short processing times during the retort process.
Mondi claims the monomaterial retort packaging is also fully recyclable, as part of Mondi's goal of ensuring that all of its products are reusable, recyclable or compostable by 2025, a key target of its MAP2030 commitments.
According to Mondi, it has spent over two years researching and testing the product to ensure that several application needs can be met.
Eveline Wagner-Hahn, managing director at Mondi Korneuburg, comments: "Sustainability is a top priority for Mondi and we are committed to make this innovation available for all our customers by using our customer-centric approach, EcoSolutions.
"Our fully recyclable solution helps to lower the product's environmental footprint and customers can be confident that their products will be completely protected throughout manufacturing and transportation and meet their sustainability goals.
"This is another example of our award-winning expertise in creating sustainable food packaging and delivering circular-driven solutions that work for the customer, the end user and the environment."
The new monomaterial pouch represents a further commitment from Mondi to innovative packaging solutions that combine its sustainable initiatives with customer needs. Earlier this month, Mondi developed a paper bag for the retail market in South Africa, which it says is tailored for the regional climate in order to maintain the integrity of products carried inside without tearing.
Meanwhile, a stand-up pouch developed by Mondi and Wener & Mertz was awarded Gold in all categories of the Cradle to Cradle Certified Product Storecard – the first flexible pack in the world to do so.