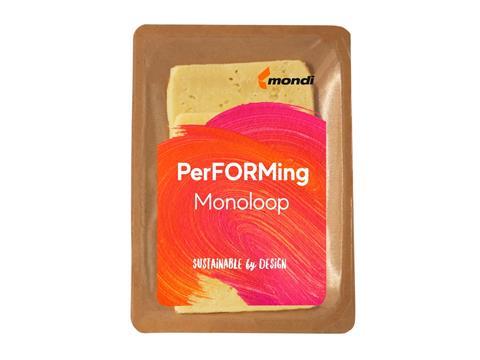 Mondi will launch a paper-based solution for sliced food and a semi-rigid mono-material MAP (modified atmosphere packaging) solution, which it says are both recyclable, at Anuga Foodtec, an event focusing on sustainability in food packaging that will run from the 26th to the 29th of April in Cologne, Germany.
The first of the solutions Mondi is launching is the PerFORMing Monoloop, a formable paper-based solution for sliced food such as cheese or meat. Mondi explains the paper tray with a barrier layer is combined with a plastic top web solution, offering enhanced product protection.
The company adds that the barrier layer can be separated from the paper tray so that all elements can be disposed of individually in the correct waste streams. The PerFORMing Monoloop solution is reportedly certified recyclable by Institute cyclos-HTP, while offering flexibility for food manufacturers as it is suitable for a range of depths and forms on existing machines.
The other solution, Mono Formable PP, is a recyclable high barrier MAP solution made from mono-material polypropylene (PP). The solution features a printed top web and a complementary thermoformable semi-rigid bottom web.
According to Mondi, Mono Formable PP weighs around 30% less than a comparable polyester (PET) tray at the same thickness while offering the same high level of product protection. The company adds that the solution can act as an alternative to the industry standard of multi-material non-recyclable PET trays, as well as being available with a range of features like easy-peel for convenient opening and reclosure.
Thomas Kahl, head of sustainable packaging solutions, FMCG and industrial channels, at Mondi, says: "Sustainability is front and centre when we design new solutions, using paper where possible and plastic when useful. We think deeply about materials and take a holistic approach that supports the development of sustainable systems and circular economies.
"We are pleased to be launching these new food packaging solutions at the Anuga Foodtec where Mondi is exhibiting for the first time."
Mondi will be exhibiting its portfolio of sustainable food packaging solutions at Anuga Foodtec in Cologne, Germany, from the 26th to the 29th of April at Hall 8.1, stand B035. Members of the Mondi team will also speak at the show.
The Sustainable Packaging Summit and Packaging Europe have partnered with Anuga Foodtec to present a live half-day conference at the event. Kahl will be speaking at the conference on the topic of paper and plastic alternatives for achieving sustainability in plastic packaging. Additionally, guests who purchase a ticket to the live half-day conference will be able to attend the co-located Anuga Foodtec exhibition, where Mondi will be debuting its new solutions, for free.
Click here to learn more about the event: https://packagingeurope.com/anuga-foodtec
Click here to buy tickets: https://account.packagingeurope.com/subscribe?sourcecode=Event2022